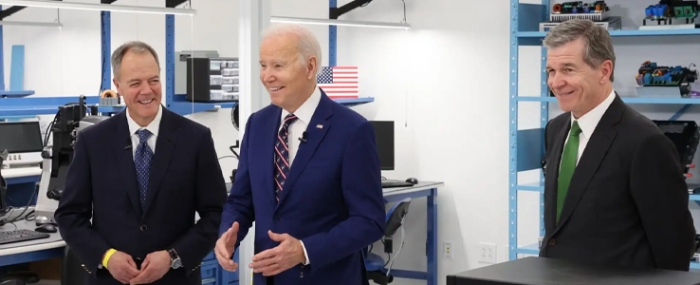 Business |
Wolfspeed and NC A&T to set up joint R&D facility
Wolfspeed and North Carolina Agricultural and Technical State University have announced their intent to apply for CHIPS and Science Act funding to build a new research and development facility on the North Carolina A&T campus.
The R&D facility will be focused on silicon carbide to support the next generation of advanced compound semiconductors. Wolfspeed and NC A&T intend to submit the project for federal investment as part of the CHIPS and Science Act when the opportunity for R&D facilities is released this fall.
"Wolfspeed has been working with North Carolina A&T to develop a workforce of the future, and we are excited to expand that partnership to develop the technology of the future," says Gregg Lowe, President and CEO of Wolfspeed in a press release. "The R&D facility will enable the next generation of innovators to explore new processes, applications and breakthrough advancements to support the global transition from silicon to Silicon Carbide technology and achieve new levels of sustainability and energy efficiency across a variety of industries."
The announcement was made at an event with President Joe Biden at Wolfspeed's headquarters in Durham, North Carolina, and the R&D facility is intended to augment the company's establishment of the John Palmour Manufacturing Center for Silicon Carbide, currently under construction in Siler City, North Carolina.
Phase one construction is anticipated to be completed in 2024 and, upon completion of the full build-out and combined with the company's currently ongoing materials expansion at its Durham headquarters, will increase material production for Wolfspeed more than 10x and create 1,800 new jobs.
The facility will supply 200mm Silicon Carbide wafers to Wolfspeed's Mohawk Valley Fab, which opened last year in New York.