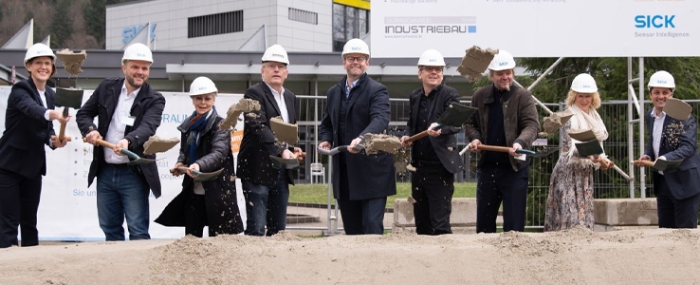 Business |
SICK breaks ground on new building in Waldkirch, Germany
With a symbolic first shovelful of soil, construction began on a new office building at SICK.
The new, ca. 9,300-square-meter building, will be home to more than 500 workspaces. Construction costs are estimated at EUR 29 million and the project is slated for completion in the first quarter of 2025.
It took nearly five months to demolish the old office building, which had been at the same site. The very first building built by SICK in Waldkirch back in 1977.
"The former building was very important to the family. As the first building on campus to be constructed by SICK itself, it stood for our growth and our successful and lasting presence in Waldkirch. Now we are investing in a new building here, one that cements that presence while at the same time reflecting my grandfather's ingenuity. He had his office in the original building – which makes me especially pleased that a modern interpretation of his office will be part of the new building, preserving the memory of his creative energy," says Sebastian Glaser, grandson of company founder Dr. Erwin Sick and a member of the Supervisory Board, in a press release.