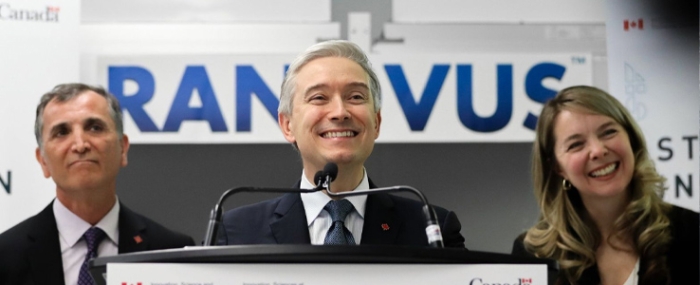 Business |
Canadian government invests to boost the country's semiconductor industry
The government of Canada says that it is committed to collaborating with the Canadian industry and is investing in semiconductor innovation and manufacturing.
François-Philippe Champagne, Canada's Minister of Innovation, Science and Industry, has announced a CAD 36 million (USD 26 million) contribution through the Strategic Innovation Fund (SIF) to Ottawa-based Ranovus Inc. to support a CAD 100 million (USD 73 million) project that will advance the domestic production and manufacturing of semiconductor products and services.
This project aims to develop the highest-performing and most power-efficient technologies for interconnect computer chips for next-gen AI work. With this contribution, Ranovus will also increase its workforce in Canada to 200 full-time employees and provide opportunities to 150 Canadian co-op students.
"Semiconductors are part of our everyday life. They are in our phones, our cars and our appliances. Through this investment, we are supporting Canadian innovators, helping creating good jobs and IP, and developing Canada's semiconductor industry to build a more resilient economy. Canada will continue to play a leading role in the rapidly growing semiconductor industry, helping to strengthen and secure the North American supply chain," says François-Philippe Champagne, Minister of Innovation, Science and Industry, in a press release.
This contribution is part of the Canadian Government's intellectual property (IP) rich initiative, which is looking to ensure that innovative, IP-rich firms are grown into world leaders. The project aims to help accelerate Ranovus's development of IP in Canada, and is expected to produce 40 new patents.
"The computing power for training artificial intelligence systems has grown by 300,000 times over the past 5 years, based on the recent OpenAI study. To support this unprecedented growth, thousands of computer chips must be interconnected with massive data pipes to create an artificial intelligence cluster," says Hamid Arabzadeh, Chairman and CEO, Ranovus Inc.
In 2022, Ranovus delivered ODIN, a small and low-power AI interconnect chip. ODIN consumes 75% less power, is 80% smaller than its closest rival and is scaling into production in the next 9 months with Tier 1 U.S. customers.
"We are investing $100 million to further scale our next-generation AI interconnect platform and are delighted by the continued support of the Strategic Innovation Fund to help keep Canada at the leading edge of the next generation of AI native infrastructure," the CEO continues.
---
In February 2022, the Government of Canada launched the Semiconductor Challenge Callout, a CAD 150 million allocation from SIF to bolster the development and manufacturing of semiconductors in Canada.