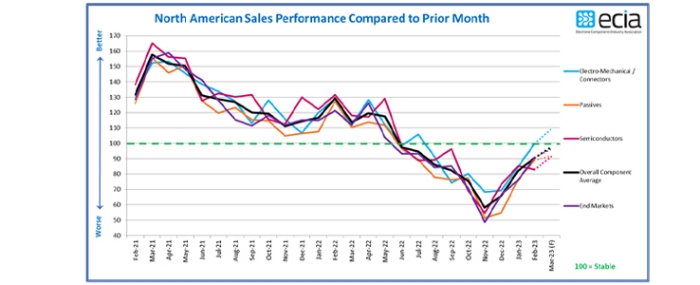 Components |
Improved sales sentiment from December 2022 continued in 1Q23
February 2023 electronic components sales sentiment powers past expectations, momentum carries into March outlook.
ECIA's Chief Analyst Dale Ford has posted the latest results from the Electronic Component Sales Trends (ECST) February 2023 survey. The improving sales sentiment that began in December 2022 continued into February and March as survey results powered beyond expectations in the latest results.
"Overall average sales sentiment leapt again in February as it increased by 8.4 points from January's level reaching 90.6 points," says ECIA Chief Analyst Dale Ford, author of the report, in a press release. "This completely outstrips the February forecast from the January survey by 12.7 points. It is also a jump of 39.5 points from the low set in November. The relatively optimistic outlook carries forward into the March forecast with growth to 97.6, an increase of another 7 points."
The recovery of sales sentiment scores for components and markets supports a soft-landing scenario in the market that has been hoped for by most electronics component supply chain participants.