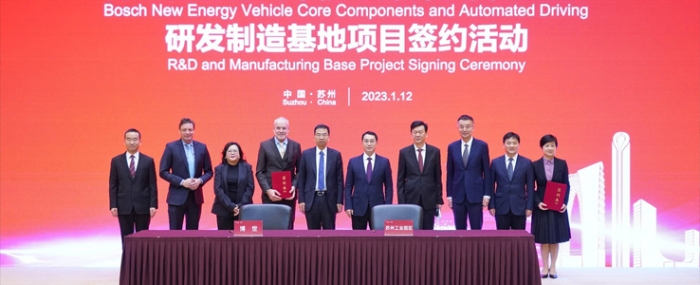 Business |
Bosch to invest $1 billion in Chinese R&D and manufacturing
Bosch plans to expand its presence in China by enhancing its local R&D and manufacturing capabilities in electrified and intelligent mobility.
Bosch Automotive Products (Suzhou) has signed an investment agreement with Suzhou Industrial Park Administrative Committee (SIP) to set up an R&D and Manufacturing base for New Energy Vehicles Core Components and Automated Driving.
Bosch plans to complete phase one of the project by mid-2024. In total, the German company plans to invest around USD 1 billion to realise the project over the next years, ramping up its new energy vehicle and automated driving-related businesses.
"China is the world's largest auto market, full of promise and vitality. As a multinational enterprise, we need to make full use of the country's local R&D capability and production capacity. Through continuous development in China, Bosch will further enhance its global competitiveness and lay a solid foundation for leading the way to the future of mobility," says Dr. Stefan Hartung, chairman of the board of management of Robert Bosch GmbH, in a press release.
The total plot ratio space of the R&D and Manufacturing Base will be 300,000 square meters. The new base will focus on electrified drive products with the latest SiC power modules, the new generation integrated power brake (IPB2.0), decoupled power brake (DPB2.0), and key automated driving technologies such as advanced driving solutions.