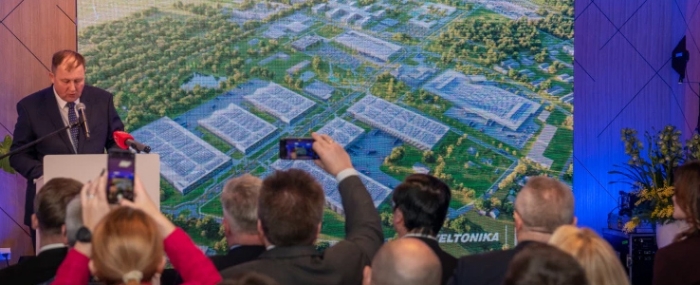 Business |
Teltonika is aiming to produce semiconductors in Lithuania
The Lithuanian electronics group announces that it has signed a EUR 14 million technological cooperation agreement with Taiwan's Industrial Technology Research Institute (ITRI), to help the group to start a semiconductor chip industry in the country.
The deal provides Teltonika with licenses for ITRI-developed technologies and devices used in semiconductor chip manufacturing. Additionally, it guarantees that the corporate group will receive help in creating thorough strategies and engineering training for staff members.
"This is the beginning of the 21st century gold industry and a new phase of our economy, where we will focus on world-changing technologies. We have the potential to establish ourselves in the global semiconductor market, and this partnership with Taiwan will help Lithuania to move forward rapidly, match the world's strongest players and realise its ambitious goals," says Aušrinė Armonaitė, Minister of the Economy and Innovation in a press release.
According Arvydas Paukštys, founder and president of the Teltonika company group, says that ITRI will provide technologies that are widely used today in power electronics, producing energy management devices such as solar inverters and electric vehicle chargers.
"This agreement proves that we are reliable partners capable of developing such complex projects. I believe that by implementing the planned works, we will help Lithuania to break through alongside the most advanced countries in the world," said Arvydas Paukštys.
He continues to say that when the idea of producing semiconductor chips in Lithuania was born a few years ago, more traditional technologies were initially considered.
"However, after a thorough market analysis, we decided to develop niche semiconductor technologies used in renewable energy, electric vehicles or other industrial power module solutions. In addition, we will offer semiconductor chip design, assembly and testing services to our customers," the Teltonika president continues.
The contract between ITRI and Teltonika is for EUR 14 million; EUR10 million will come from Taiwan's Ministry of Foreign Affairs as part of an agreement between the governments of Lithuania and Taiwan, and the remaining EUR 4 million will come from Teltonika. The entire project value will be determined following more thorough calculations made during the planning stage and after evaluating the expenditure required for the setup of the infrastructure and the building of factories for a domestic semiconductor industry.
The country's semiconductor industry will – according to the press release – encompass activities such as semiconductor chip design, fabrication, assembly and testing, and power module manufacturing.
The next step is to start preparing more detailed plans for these projects, which, according to initial estimates, could take around a couple of years, until 2025. Once this is completed the actual construction of the facilities needed could take another two years, approximately.