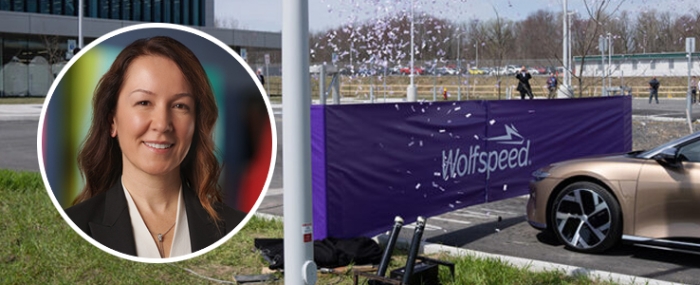 Business |
Wolfspeed appoints Elif Balkas as new CTO
Wolfspeed has promoted Elif Balkas to Chief Technology Officer, succeeding the late Dr. John Palmour, a co-founder of Wolfspeed.
"Since her start with Wolfspeed in 2006, Elif has been instrumental in our technology and production development, and she was the clear choice to help steer Wolfspeed as we continue to lead the transition from silicon to Silicon Carbide," said Wolfspeed CEO Gregg Lowe, in a press release. "One of John's greatest legacies is the talent he nurtured and developed on the Wolfspeed team, and we are confident Elif will continue to drive innovation in Silicon Carbide with passion, ingenuity and leadership."
In her role as VP of R&D in Wolfspeed's Materials organisation, Balkas shaped the company's technical strategy on wide bandgap materials and drove its development execution. She has overseen multiple technology milestones during her tenure at the company, including the development of 150mm and 200mm boule growth systems and processes.
"I'm excited to continue building upon the legacy that John created and unlock new innovations and applications for Silicon Carbide," says Balkas. "It's an exciting time of growth at Wolfspeed and I look forward to the new challenge of finding greater efficiencies as we continue to expand the reach of our technology."
Balkas brings more than 20 years of experience in the technology industry. Prior to Wolfspeed, she served in a variety of leadership positions in R&D and operations, focusing on developing Silicon Carbide crystal growth and GaN technologies that are scalable for manufacturing purposes and that enable more efficient and powerful electronic systems.