Application Notes | December 08, 2017
Design considerations for military systems & how to mitigate component supply issues
Military equipment is expected to have a service life of decades so designing new systems requires the use of state-of-the-art Integrated Circuit technology to really maximize system performance and capabilities, yet this work sits sometimes uncomfortably alongside efforts to support and maintain legacy systems that are up to 30 years old.
This is a product release announcement by Linear Technology (now part of Analog Devices). The issuer is solely responsible for its content.
These designs stretch back to the early days of the semiconductor industry when the aerospace and defense sector drove semiconductor demand and wielded considerable influence. The rapid pace of technological advance and commoditization of ICs together with the associated semiconductor business models have not been easy to manage for the defense industry. So what lessons can be drawn from the design perspective to minimize future component supply issues.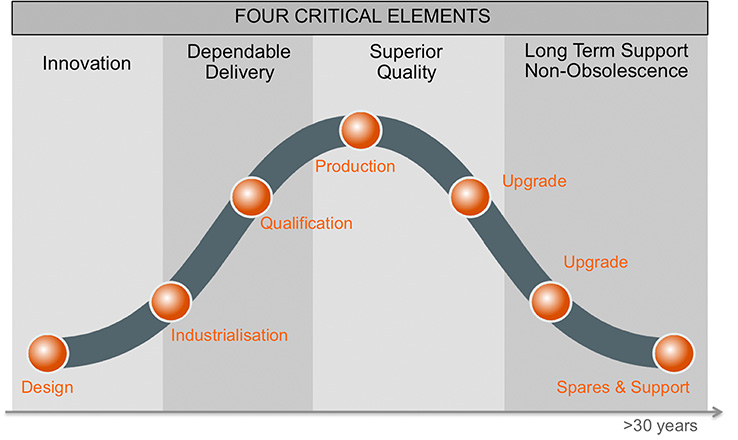 Strategic Supplier Selection
Much has been written about the divergence of military and consumer product lifecycles where a typical consumer product might only have a life of two years in contrast to defense, industrial, transport and energy markets that can be in excess of 30 years. The considerations given to individual aspects of product design and support also differ dramatically with military users placing utility and reliability over aesthetics and cost. From the design perspective, it is critical to engage with suppliers who have a business strategy and philosophy that will maintain support for their components over the entire lifecycle from design start to spares and support contracts. Whilst start up IC companies may have some attractive products or technology that bring additional performance or integration benefits to the design this must be weighed against the risk of supply continuity problems. New entrants are vulnerable to acquisition or worse to business failure in the early years, leaving uncertainty as to how their products will be supported.
Protecting Design Resources
Design resource is a valuable commodity and success of a product will be very strongly dependent on the quality of the design work; however the correct choice of components of course is about far more than selecting a good parametric fit. One of the most obvious ways that companies direct or steer their design teams is by use of "Preferred Parts Lists" and/or "Approved Supplier" schemes. These attempt to strike the right balance between the freedom of design and the need to lock down every new item used in a complex pre-approval system. The risk is naturally that an over-constrained design process can lead to uncompetitive products that are late to market. It is critical that individuals responsible for managing component selection processes do not inadvertently act as a filter for ideas or concept discussions between designers and technology or product experts at suppliers. Selecting preferred suppliers is a matter of individual company strategy, the important factors will likely include the four critical elements from the Lifecycle Model cited above. From the design perspective, innovation encapsulates a number of ideas, including the competitiveness of the component or sub-system, the underlying technology roadmap and the willingness of the supplier to support the design–in process. In fact, support is becoming a key factor as defense budgets continue to tighten and design teams are faced with less resources, shorter development timescales and increasing design complexity. To facilitate this Non-Disclosure Agreements are routinely used to permit suppliers to get in to much deeper levels of detail of sensitive applications. The defense industry and now other long lifecycle industries are becoming more aware of just how much design resource is consumed, sustaining old products where obsolete components have forced a design change. In acute cases, we have known customers expending up to 40 or 50% of design resources on such activities, painfully aware that this valuable effort should be going on new product development.
Skills Gap
Expanding the idea of design-in support, it has become evident in the areas of power and high-performance analog ICs that form the core of Linear Technology's (now Analog Devices) products that a skills gap is growing. It is easy to look at a system with huge FPGAs and think about the challenges in digital terms while overlooking the difficulty of powering the parts. Sub one-volt cores, consuming 10-20Amps require good transient response of <50mV over all conditions making loop response, layout, voltage reference accuracy and load monitoring critical. Add in higher PCB densities, increased clock speeds, concerns over conducted emissions and operating temperature considerations and these quickly become analog and RF problems. The number of designers specializing in these areas has diminished while the need for high-performance solutions is on the increase, hence the skills gap. A good supplier will address this with applications support, evaluation boards, circuit analysis models and, of course, with great products. One approach that helps address the skills gap, performance requirements and long term availability of products is the increasing use of module technology.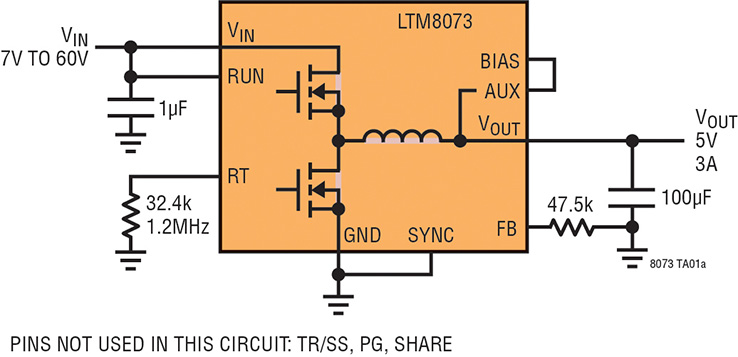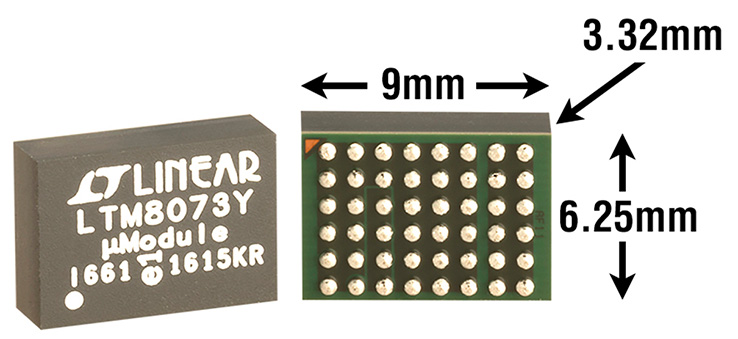 Figure 1. LTM8073, 60VIN, 3A Silent Switcher® μModule Regulator in 9mm x 6.25mm BGA Package
Analog Devices range of μModule® voltage regulators and signal chains resemble a surface mount IC, each product includes complete system-in-a-package solution that simplifies design and minimizes external components. Sub-families of parts can be created with compatible footprints and pinouts making it easier to scale up or down the power or performance requirements without major changes to the circuit board layout. Internally, multiple IC dies of different technologies are combined with passive components on a substrate which is over moulded. The layout and design are carefully optimized for electrical performance and thermal efficiency and will achieve a smaller solution size than is possible with standard component packaging. Built to the industry's highest standards, these modules offer outstanding reliability approaching that of standard ICs.
Commercial Considerations
Another factor in the selection of components at the design stage, is that of cost. First, it is important to distinguish between component price and solution cost. Using the example of the μModule voltage regulator above, the solution cost equates to the unit price, whereas looking only at the DC-DC controller and MOSFET unit costs would not take in to account the passive components, magnetics, design time and technical challenges associated with developing a high-efficiency switching regulator. Again the skills gap may play in to this calculation. Furthermore the lifetime cost for a given solution will be heavily dependent on the long-term availability of the component. If a redesign is required the costs could easily dominate the lifetime cost as the example below shows. Component 1 has to be redesigned twice whereas component 2 remains available for the lifetime of the program.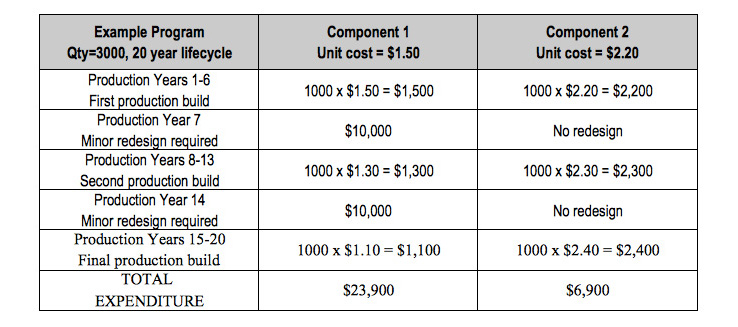 Clearly, even a reduced unit price with each redesign is insufficient to offset the redesign costs, which may be far more substantial than those indicated here in reality, particularly for more complex components with software implications.
Designing around Component Obsolescence
When selecting components for a new design good component engineering specialists can give a vital perspective on the track record of suppliers from their experience, but this is not simply a question of looking in the numerous on-line, commercially available parts databases. Frequently these have been shown to give mathematical predictions of impending obsolescence that fail to take into account individual manufacturer policies. For example, at Analog Devices, we have a non-obsolescence policy and we still offer for sale products released three decades ago such as the LT1001. A close supplier relationship will bring with it access to inside information on component popularity, manufacturability and new process technologies that assist in making a more informed choice for new designs. It is therefore important to dedicate time to cultivate such relationships.
The Risks of Reworked & Counterfeit Components
The Semiconductor Industry Association estimates that counterfeit parts cost U.S. semiconductor companies more than $7.5 billion per year in lost revenue. There are many examples of counterfeit parts being found in the aerospace and defense supply chain and the consequent danger of equipment failure with potential for injury or loss of life. A quick search of YouTube finds numerous examples of component salvage operations and sales outlets for what amounts to scrap or misrepresented components. While efforts are being made to tighten up on illegal activities, the simple solution is not to buy from unauthorized sources or brokers. It is also important to ensure that such procurement policies are extended to Contract Manufacturers and that they are not permitted to mix inventories of common parts purchased for other customers where controls and procurement policies may differ. Careful selection of suppliers and a close working partnership will also assist in solving the most intractable obsolescence issues. Analog Devices will, under strict conditions, offer components in die form to enable customers to engage third party packaging where the original package piece parts are obsolete. From a design perspective, this can be a helpful option where no other changes or PCB redesign is required.
Conclusions
Design Managers are major stakeholders in the supplier selection and development process and should encourage designers to develop close working relationships in pursuit of their design goals. Strong innovation, stability of supply, high quality and a track record of long-term commitment to the Aerospace and Defense market are all elements that form the basis of dependable supplier relationships. Component selection is not just a matter of finding a part that fits the performance need. First-class design support from the supplier will reduce time to market, assist in bridging any skills gaps and facilitate informed choices in term of component selection. This will deliver the most competitive solution and reduce the longer-term risk of obsolescence problems. Beware of misinformation, the Internet is full of instant answers and data but the knowledge and experience of component specialists and good contacts at suppliers will serve higher quality information.
---
Author: By Steve Munns, Aerospace & Defence Marketing; (
© Linear Technology (Now Part of Analog Devices, Inc.
)