Components | July 17, 2015
Continued loss for AMD
Chipmaker AMD is continuing to struggle with the downturn of the PC business.
Revenues for AMD's second quarter 2015 amounted to USD 942 million, representing a decrease of 8% from the previous quarter and a YOY decrease of 35%.
The bottom line is that AMD made a loss of USD 181 million, compared to a loss of USD 180 million during Q1 and a loss of USD 36 million the same quarter 2014.
The sequential decrease was primarily due to weaker than expected consumer PC demand, according to the company's press release. In this segment, sales amounted to USD 379 million (1Q / 2015: USD 532 million; 2Q / 2014: USD 828 million) a.
The Enterprise, Embedded and Semi-Custom segment saw an increase, but not enough to balance the loss. In this segment second quarter revenues amounted to USD 563 million (1Q / 2015: USD 498 million; 2Q / 2014: USD 613 million).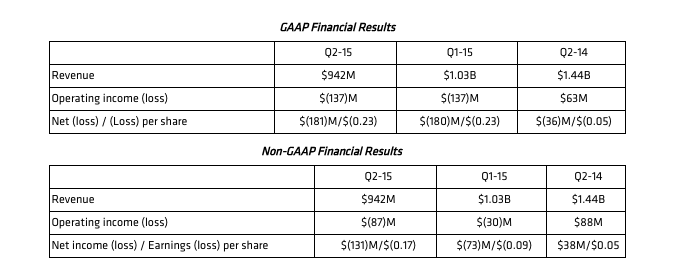 © AMD
Load more news