Components | June 09, 2015
Imagination and TSMC team up on IoT IP platforms
Imagination Technologies and TSMC has entered a collaboration to develop a series of advanced IP subsystems for the Internet of Things (IoT) to accelerate time to market and simplify the design process for mutual customers.
The collaboration aims to bring together Imagination's IP with TSMC's process technologies from 55nm down to 10nm.
The IoT IP subsystems in development include small, highly-integrated connected solutions for simple sensors which combine an entry-level M-class MIPS CPU with an Ensigma Whisper RPU for low-power Wi-Fi, Bluetooth Smart and 6LowPan, as well as OmniShield multi-domain hardware enforced security, and on-chip RAM and flash.
As part of the collaboration, Imagination and TSMC are working together to realize reference IP subsystems that bring together Imagination's PowerVR multimedia IP, MIPS CPUs, Ensigma RPUs and OmniShield technology to create connected audio and vision sensor IP platforms.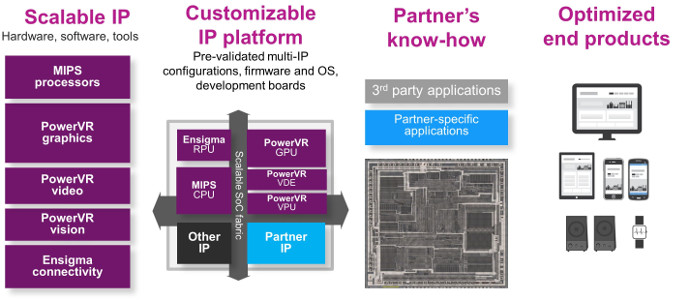 These IP subsystems will leverage features such as GPU compute, power-managed CPU clusters and on-chip high-bandwidth communications.
Tony King-Smith, EVP marketing, Imagination, says: "We have been working with TSMC for more than two years on advanced IP subsystems for IoT and other connected products. Many of our licensees rely on TSMC to provide them with leading-edge, low-power, high-performance silicon foundry capabilities. Through our ongoing collaboration with TSMC, we are focused on creating meaningful solutions that will help our mutual customers quickly create differentiated, secure and highly integrated products."
-----
Images:
© Imagination
Related news
Load more news