Components | December 05, 2014
Top list 2013: Not all that glitters is gold
Intel may still lead the pack, but others are closing in.
One of those that are chasing the lead is Samsung Electronics. Still in second place (though), the South Korean giant managed - thanks to a positive sales trend for memory semiconductor products - narrow the gap to leading Intel Corporation. Qualcomm is in at number 3 with a market share of 5.5 percent. As had the year before.
Come 4th place however, the list becomes more interesting. Micron - following the acquisition of Elpida - moved up to 4th place, picking up a 4.6 percent market share along the way. SK Hynix jumped to places and sits now - with a market share of 4.5 percent - comfortably in 5th place.
With the size of the global semiconductor market estimated - by IHS - to stand at USD 352.558 billion in 2014 (up 9.2 percent from the USD 322.762 billion in 2013) those aforementioned positions (and its occupants) will not change dramatically. Intel will retain its top spot, but the rest of the pack will close in.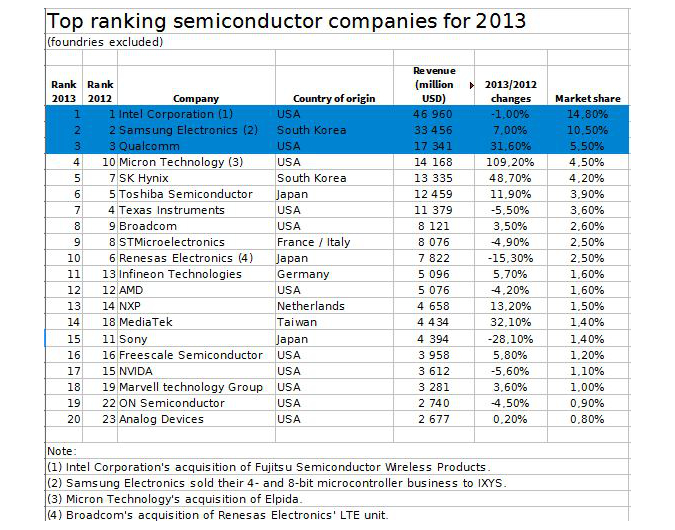 EDITOR'S NOTE_ Foundries are exluded
-----
Image
© wikipwdia
Load more news