Teardowns | November 10, 2014
iMac 5K Retina Teardown
Another year, another iMac refresh. For what? A pitiful processor bump? An even thinner display on a device that you'll never see from the side? Not this time.
Apple brings the high-density Retina display to its largest form factor yet: the 27" iMac. With such an enticement for consumers to upgrade, we took extra care to find out what changes Apple made under the iMac's hood. What new hardware supports this behemoth of a display? And what do the new changes mean for repairs and upgrades?
After our step-by-step comparison, we compiled a lengthy list of the repair-relevant changes: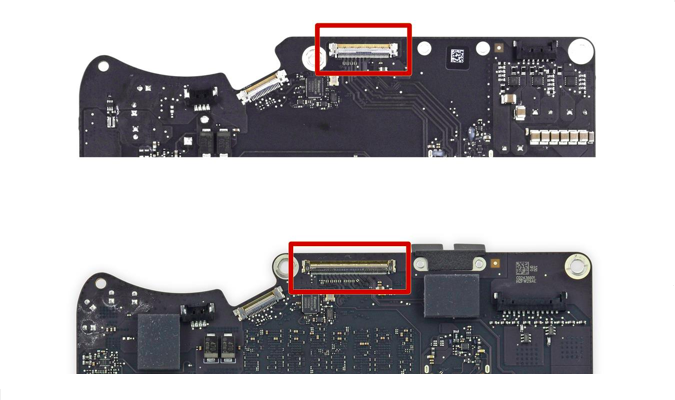 The display data connector on the logic board is now slightly wider!
Given its industrious reuse of an old design, the iMac Intel 27" Retina 5K Display earned the exact same 5/10 Repairability Score as its predecessor. And for the exact same reasons: user-replaceable RAM, hard drive, and CPU are all positives, but a fused LCD and taped-down display glass hinder the would-be repairer.

Teardown Highlights:
Fixers rejoice! The iMac Intel 27" Retina 5K Display retains the familiar, easily accessible RAM upgrade slot from iMacs of yore. While the opening procedure still requires a steady hand and a willingness to replace the custom-cut, two-sided adhesive tape when you're done, it's otherwise pretty straightforward, and unchanged from previous models.
ICs in the Retina 5K display:
Texas Instruments NH245 8-Bit Dual-Supply Bus Transceiver
Texas Instruments BUF16821 Programmable Gamma-Voltage Generator and Vcom Calibrator
Parade Technologies DP665 LCD Timing Controller
Texas Instruments TPS65270 Monolithic Dual Synchronous Buck Regulator
Texas Instruments TPS65168 High Resolution Fully Programmable LCD Bias IC for TV

And elsewhere:
Intel Core i5-4690 Processor
AMD Radeon R9 M290X GPU
SK Hynix H5GC2H24BFR 256 MB GDDR5 SGRAM (8 x 256 MB = 2 GB total)
Intel NB430029A00200 Platform Controller Hub
Broadcom BCM5776 Gigabit Ethernet Controller
Cirrus Logic 4206BCNZ Audio Controller
Intel DSL5520 Thunderbolt 2 Controller
Microchip Technology 1428-7 420BE5A BMY System Management Bus Temperature Sensor
Intersil ISL6327 Enhanced 6-Phase PWM Controller
SanDisk 05131 016G 16 GB NAND Flash (8 x 16 GB = 128 GB total)
SK Hynix H5TQ2G63DFR 2 GB DDR3 SDRAM
Marvell 88SS91383 PCIe SSD Controller
Broadcom BCM4360KML1G 5G WiFi 3-Stream 802.11ac Gigabit Transceiver
Skyworks SE5516 Dual-Band 802.11a/b/g/n/ac WLAN Front-End Module
Broadcom BCM20702 Single-Chip Bluetooth 4.0 HCI Solution with Bluetooth Low Energy
----- More info - as usual -
can be found at © iFixit
.