Business | July 21, 2014
Top 10 Distributors 2013/2014
According to a recent study in the European Distribution Report 2014, published by Euro Partners Consultants, DTAM declined by 1.4% YoY in 2013.
Compared to last year's forecasts, a positive growth trend has been forecasted for 2014 and 2015, hovering around the three percent mark. This is attributed to the positive global economic conditions for the German export industry. Approximately 300 companies in the distribution market for electronic components serve the German market. Seventy percent of sales are made by 10 companies. Among the largest companies are Avnet, Arrow and Rutronik. On the whole, there were no significant changes in market shares compared to previous years.
Top Ten Ranking 2013/2014
1
Avnet
28,0%
2
Arrow
16,1%
3
Rutronik
9,4%
4
TTI
3,4%
5
Future
2,7%
6
Ineltek
2,1%
7
RS
1,7%
8
Endrich
1,7%
9
Setron
1,6%
10
Glyn
1,5%
Others
31,8%
A different picture emerges from the analysis of sales figures. While many companies recorded negative sales in 2013, Mouser and DigiKey ended the year with gains of more than ten percent. The online and catalog distribution coupled with personal support of key customers seems to have conquered the German market.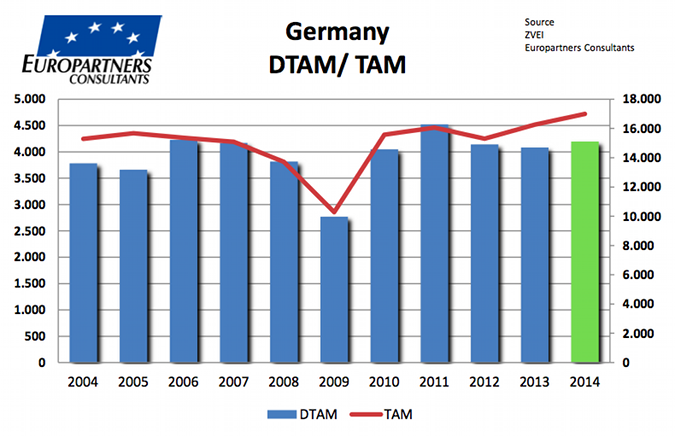 © Europartners Consultants