Components | December 06, 2013
Ranking: Micron surges to fourth place
Partly because of its success in the booming DRAM and NAND markets, U.S.-based Micron Technology Inc. will grow by 109.2 percent in 2013, catapulting the company up the semiconductor market's ranks to No. 4 in 2013, rising from No. 10 in 2012.
Micron is expected to end the year with $14.2 billion in semiconductor revenue, more than doubling its $6.8 billion total in 2012. In addition to its success in DRAM and NAND, Micron's growth in 2013 is being propelled by its acquisition of Elpida Memory, writes market researcher IHS. Out of the more than 150 semiconductor suppliers tracked by IHS, no other company will grow more than Micron in 2013. Micron's share of the total semiconductor market will more than double to 4.5 percent in 2013, up from 2.2 percent in 2012. Also benefiting from the memory boom is SK Hynix of South Korea, whose chip revenue is on track to expand by 48.7 percent in 2013. The company will jump to No. 5 in the semiconductor market rankings in 2013, up from No. 7 in 2012. SK Hynix's performance is all the more outstanding since it was entirely driven by organic sales growth—and not by any acquisitions.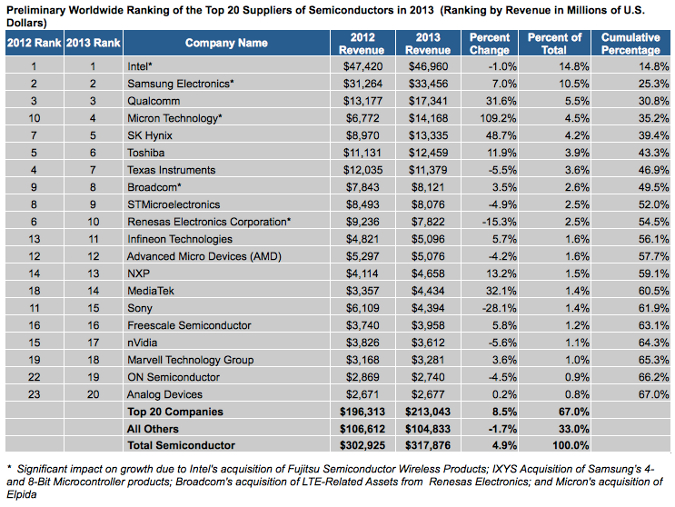 © IHS
Qualcomm closes in on market leaders
Qualcomm Inc.'s incredible success in the wireless world continues to drive it to the top of the semiconductor industry. The U.S. company is set to attain 31.6 percent semiconductor growth in 2013, causing it to gain1.2 percentage points of share and take 5.5 percent of total semiconductor market revenue. No. 3-ranked Qualcomm's strong growth in 2013 will allow it to narrow its market share gap with industry leaders Intel Corp. and Samsung.
Suffering semiconductor suppliers
Sony, Renesas Electronics, and Rohm Semiconductor are set to deliver disappointing results with expected declines of 28.1 percent, 15.3 percent and 14.3 percent, respectively. As a result, Renesas will drop all the way to No. 10, down from No. 6 in 2012, and Sony will fall to No. 15, declining from No. 11. Rohm Semiconductor will completely fall out of the ranks of the Top 20. Texas Instruments and nVidia also are struggling in 2013 with the companies suffering declines of 5.5 percent and 5.6 percent, respectively. Intel will maintain its status as the No. 1 semiconductor supplier, but its projected semiconductor revenue decline of 1.0 percent means it will drop from its historically high 15.7 percent share of the market in 2012 to 14.8 percent in 2013.