Components | June 15, 2012
1Q revenue down 5% YoY for Premier Farnell
Distributor Premier Farnell reports total first quarter revenue of GBP 241 million; a 5% decline YoY from GBP 252.5 million.
Underlying operating profit for the quarter also decreased to GBP 26.0m (2011/12: GBP 28.5m).
Both Europe and Asia Pacific showed strong sequential growth of 2.1% and 8.5%, respectively with Asia Pacific returning to year on year growth. North America was 2.7% lower, sequentially, as we continued our strategic transformation away from commodity MRO.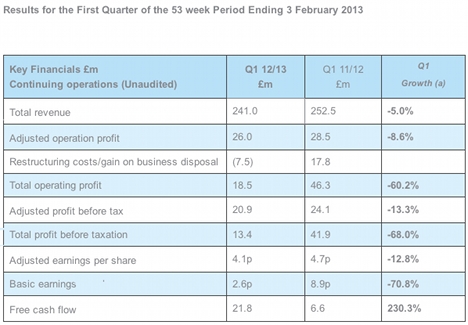 © Premier Farnell
Commenting on the results, Laurence Bain, Group Chief Executive, said:
''Global quarterly sales per day have been maintained at a stable level since the decline in the global electronics and technology markets that impacted us in June last year. In the first quarter we saw sequential growth in both Europe and Asia Pacific and a reduction in the Americas as that business continues its progression from commodity to strategic MRO and EDE. Although at this stage of the cycle EDE markets remain challenging, MRO sales per day continued to progress on a year on year basis.

Sales in May were stable against Q1 resulting in an improved year on year performance of -2.4%. We continue to manage costs carefully and maintain gross margin stability whilst investing in support of our strategy and our people. As comparators become easier from the middle of the year and with the benefit of a 53rd week we expect growth to return in the second half. However as we have limited forward visibility and in light of the economic outlook we remain cautious.

With continued focus on providing great service to the engineering community, our multichannel strategy, led by the web and growth in emerging markets, I believe that the Group will go from strength to strength.''
Load more news