Components | October 24, 2012
ST-Ericsson with operating loss of USD 148 million
Sales in the third fiscal quarter (ending September 29, 2012) increased 4 percent over the prior quarter reflecting the continued ramp of NovaThor platform shipments as well as $35 million revenues from IP licensing.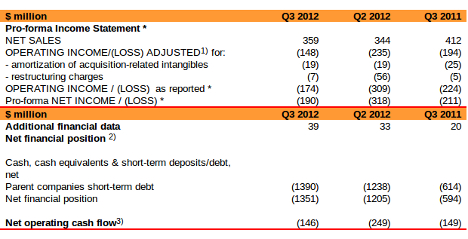 © st-ericsson
Didier Lamouche, President and CEO of ST-Ericsson said:
"In the third quarter, we made further improvements on all the key metrics, thanks to our steady and timely progress in executing the new strategic direction we set in April. The ramp of our NovaThor integrated ModAp platforms continued with customers such as Samsung, Sony Mobile Communications and new and existing Asian customers, with new smartphones being brought to the market. Although our losses remain large, we have succeeded in halving them in two quarters thanks to our progress in cost reduction and productivity improvements. As we enter the fourth quarter and we still have to face the further decline of the legacy portion of our business, we are encouraged by new design wins on leading phones, like the recently announced Samsung Galaxy S III mini, which is the twentieth device powered by our NovaThor platform and brought to the market in about one year."
Outlook
ST-Ericsson expects net sales to be approximately flat sequentially for the fourth quarter 2012.
Didier Lamouche commented:
"We are re-aligning our sales efforts to take into account the changed customer dynamics and our stronger focus going forward on Asia and the US, with Europe remaining an important region for our business. With his extensive experience on those markets and the semiconductor industry, I am fully confident that Peter will bring a strong contribution to our objective to continue to enlarge our customer base and grow our business. Personally and also on behalf of the whole senior management team, I want to thank Pascal Langlois for his contribution since the inception of our company, where he has been instrumental in building the sales team and broadening our customer base."