Components | October 19, 2012
AMD revenue slides 25% YoY
AMD reports 3Q revenue of USD 1.27 billion, a net loss of USD 157 million and an operating loss of USD 131 million.
The company reported a non-GAAP net loss of $150 million, or $0.20 per share, and a non-GAAP operating loss of $124 million. AMD is also announcing a restructuring plan designed to reduce operating expenses and better position the company competitively.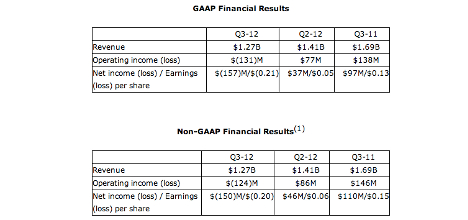 © AMD
"The PC industry is going through a period of very significant change that is impacting both the ecosystem and AMD," said Rory Read, AMD president and CEO. "It is clear that the trends we knew would re-shape the industry are happening at a much faster pace than we anticipated. As a result, we must accelerate our strategic initiatives to position AMD to take advantage of these shifts and put in place a lower cost business model. Our restructuring efforts are designed to simplify our product development cycles, reduce our breakeven point and enable us to fund differentiated product roadmaps and strategic breakaway opportunities."
Current Outlook
For the fourth quarter of 2012, AMD expects revenue to decrease 9 percent, plus or minus 4 percent, sequentially.