Components | May 09, 2012
DLP Technology keeps TI at top of MEMS market
Texas Instruments Inc. (TI) remained the world's No. 1 MEMS manufacturer in 2011, retaining top honors after fending off runner-up HP in a bruising battle for the crown, according to information and analytics provider IHS.
With MEMS revenue of $779.0 million, TI led a competitive field of big-name players in the overall MEMS space, whose sensors and actuators are used in a variety of industries including consumer and mobile, automotive, industrial, medical, and aerospace and defense. Together, the Top10 MEMS players had combined revenue in 2011 of $4.7 billion, up 12 percent from $4.2 billion in 2010. Joining TI in the Top5, in descending order, were Hewlett-Packard, Bosch, STMicroelectronics and Canon. The top three representing TI, HP and Bosch were separated by just a small margin, heightening the sense of fierce competitiveness surrounding the space last year. And though TI and HP remained the leaders, No. 3 Bosch and fourth-ranked STM had much larger revenue jumps that could propel them to the top and lead to the dethronement of the leading incumbents very soon.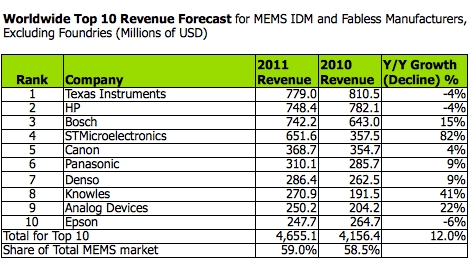 © IHS
The rest of the Top10 last year included Panasonic, Denso, Knowles Electronics, Analog Devices and Epson. Freescale Semiconductor, a former member of the group, tumbled out of the Top 10 this year and fell to No. 11.