Business | November 27, 2012
First Apple computer sold for EUR 400'000
It may seem a bit pricy for a computer sporting some 4 KB of memory (though in its defence it could be expanded to 8 or 48KB using 'upgrade cards'). But this monster was actually hand built by Apple's co-founder Steve Wozniak.
The still working Apple-1 was auctioned off on November 24 for a truly impressive amount of money. It was actually hand-built by Steve Wozniak. However, it was his - now late - collegue Steve Jobs who came up with the idea that they should sell the computers. So, back in the mid 70s, they sold off Jobs' car and Wozniak's calculator to finance the project.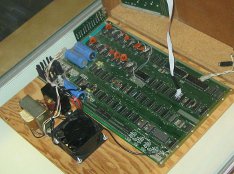 About 200 were produced of Apples first personal computer, each containing some 60 chip on the motherboard (which was the actual computer). The user had to add a casing, power supply, video display and keyboard themself. The original price was set to USD 666.66.
Specifications
(according to Wikipedia): CPU MOS 6502 @ 1 MHz Memory 4 KB standard Expandable to 8 KB or 48 KB using expansion cards Graphics 40×24 characters, hardware-implemented scrolling
And to compare: The newest Macbook air
Memory: 4GB of 1600 MHz DDR3LSDRAM Optional 8 G CPU: (11")1.7 GHz (i5-3317U) dual-core Intel Core i5 with 3 MB shared L3 cache Graphics: Intel HD Graphics 4000processor with DDR3 SDRAM shared with main memory
© Wikipedia Commons / Geni