Business | May 31, 2012
Teardown of a Nook SimpleTouch
We just had to sneak a peek into Barnes & Noble's GlowLight technology. Although it seemed super-simple at first -- just some inexpensive LEDs on top of the screen -- we knew there had to be more tech packed inside in order to evenly light the screen. So, how did B&N do it?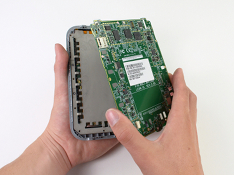 The glass in the display assembly includes a diffraction grating that disperses the light from the Nook's eight LEDs to achieve even distribution. Barnes & Noble must have spent a good amount of time optimizing this diffraction surface for the uniform lighting, which is why they have kept the technology in-house and are filing for a patent. Besides uncovering the magic of GlowLight, we found this device to be quite similar to the older Simple Touch. The board looks almost identical, save a connector for the GlowLight LEDs. The other noticeable difference is a frame made out of magnesium, as opposed to the aluminum plate found in the non-lit Simple Touch. (We verified this magnesium claim the hard way, apparently not having learned our lesson from last time).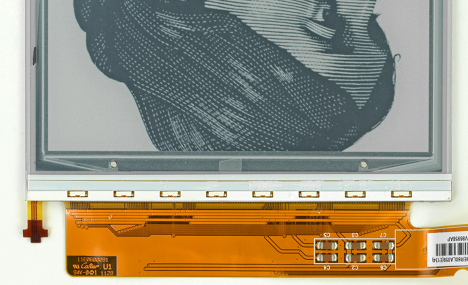 All images
© iFixit
The Nook Simple Touch with GlowLight earned a 7/10 repairability score. It was relatively simple to open (twelve screws and three main connectors), but it also contained a massive amount of adhesive that coated virtually every part. Adhesive aside, replacing the battery can be accomplished by removing one screw and a single connector. -----
The whole teardown:
can be found here.