Does your company have a new feature that you wish to publish on Evertiq? Would you like to post a press release, product news, a job advertisement, price list, video, white-paper, or other articles that do not fit into our ordinary editorial content?
We have a solution to this. We call it Sponsored Content!
We have created a number of spaces between every fourth news story in our regular news feed. In those spaces you are, as an advertiser, offered the opportunity to publish precisely what is described above. You can choose to publish text, photos or videos.
We can also help you develop material for your article!
To distinguish your article from our regular editorial content on the Evertiq.com start page, the image, title and preamble is clearly marked as "Sponsored Content". The space is also marked with a light blue background. This whole area is clickable and will take you to a page on Evertiq.com where your article is fully presented. In this article page, you can publish more photos, videos, text, tables, and other content. You can also link to one or more external websites from the article page.
Your article is also published in our newsletter and you will receive domain click-thru statistics from the addresses that have clicked on the article headline.
sponsored content positions
Here are examples of how your 'sponsored content' might look on the Evertiq.com homepage across multiple browsers, including PC, Mac and tablet.
Example of the Evertiq.com start page with picture, title and preamble (marked with a red frame).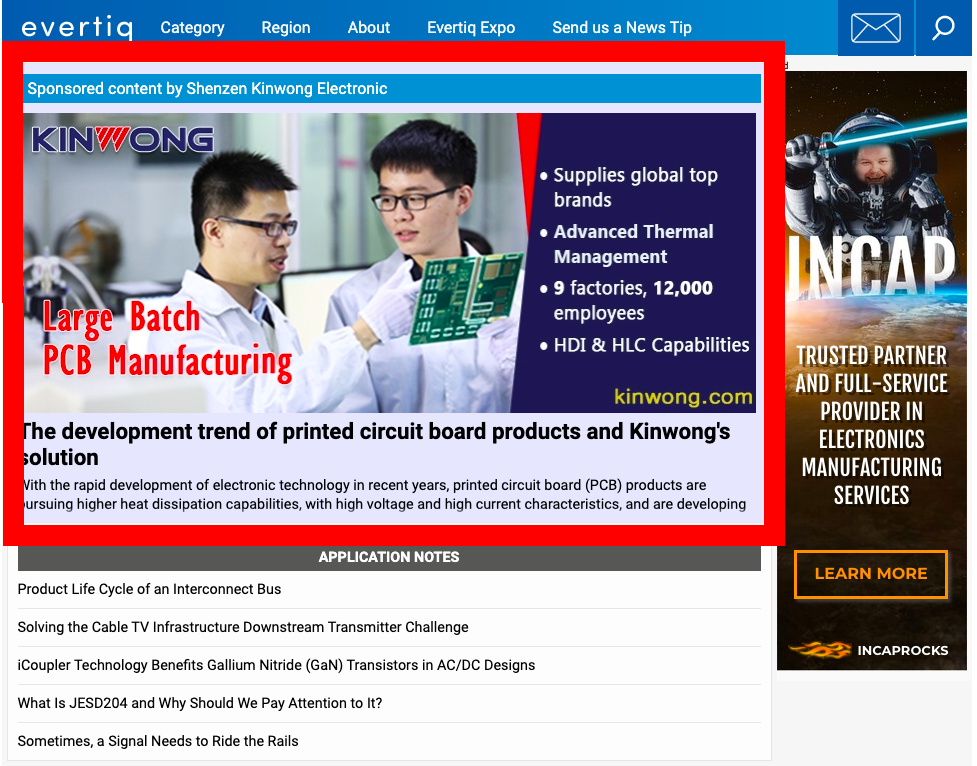 article page
Example of an article page in a browser on a PC or tablet.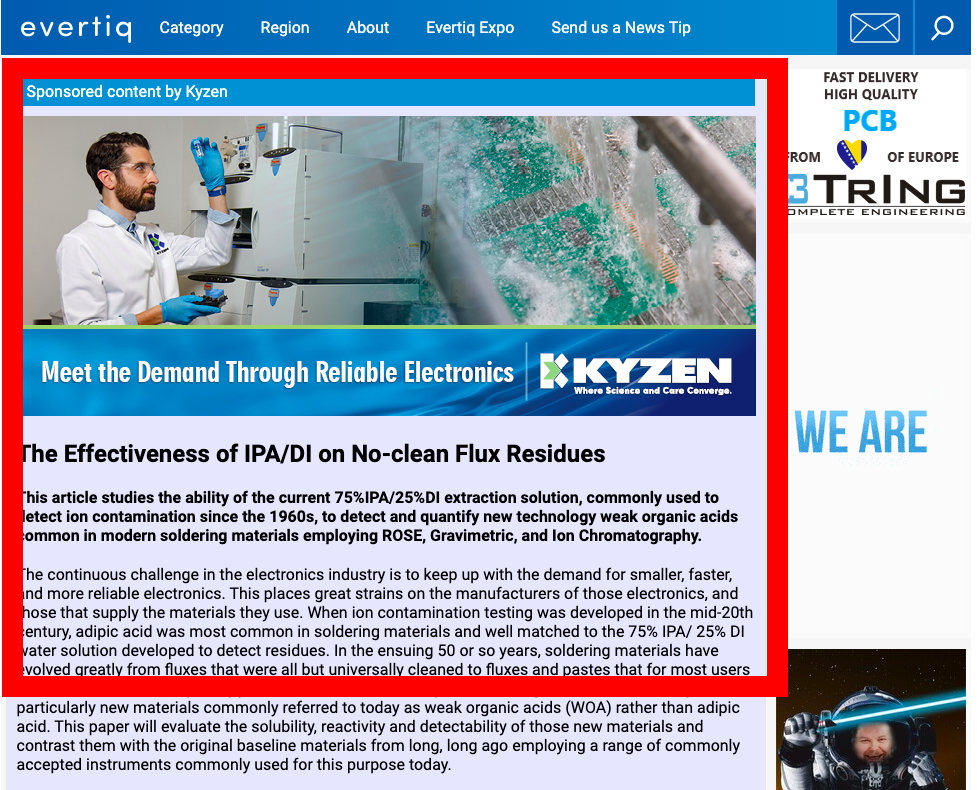 distribution of the article in social media and email
There are also buttons placed on the article page where the reader can share the article on social media and by email. See examples below.

searchable in our news archive
Your article is stored in our news archive after the campaign has ended. This means that you can look up the article in the future.
mobile devices
Below is an illustration of how your article might look on the Evertiq.com start page on an iPhone and Android mobile phone browser, or in our App.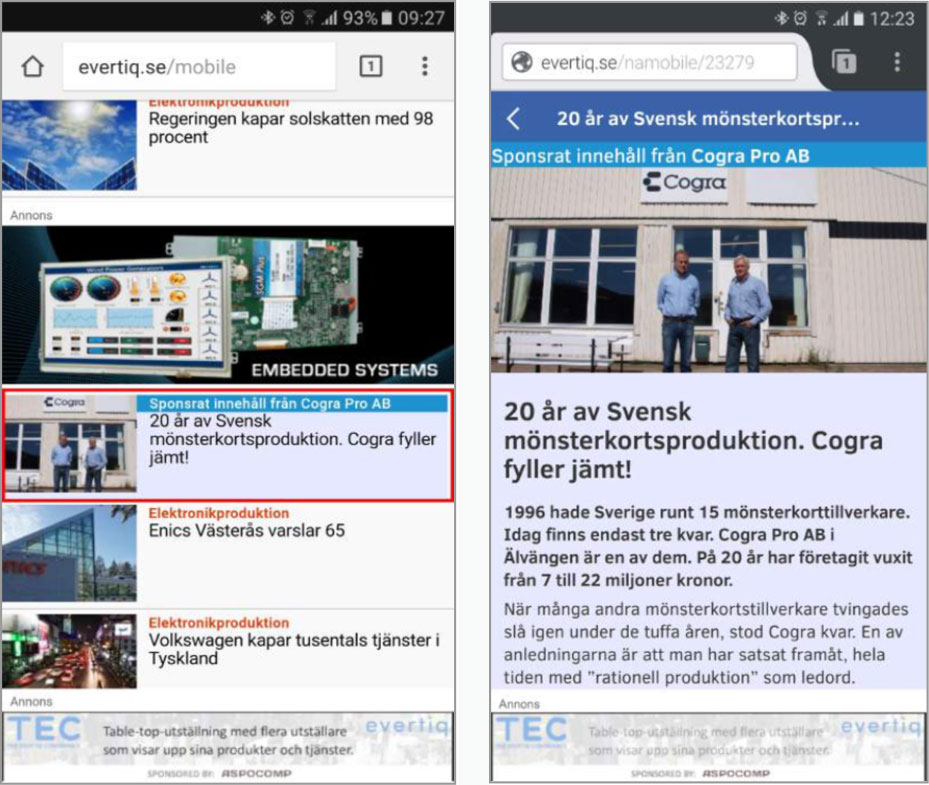 newsletter
The title of your article is also published in our daily and weekly newsletters. It is placed in a list with a blue background. Above the list there is a headline that informs the recipient that this is sponsored content. All recipients who click on the link in the newsletter are sent to the article at Evertiq.com where it can be read in its entirety. Statistics are presented with the domain name associated with the news letter recipient who has clicked on the headline.
The example below shows the title of the article in our newsletter (marked with a red frame).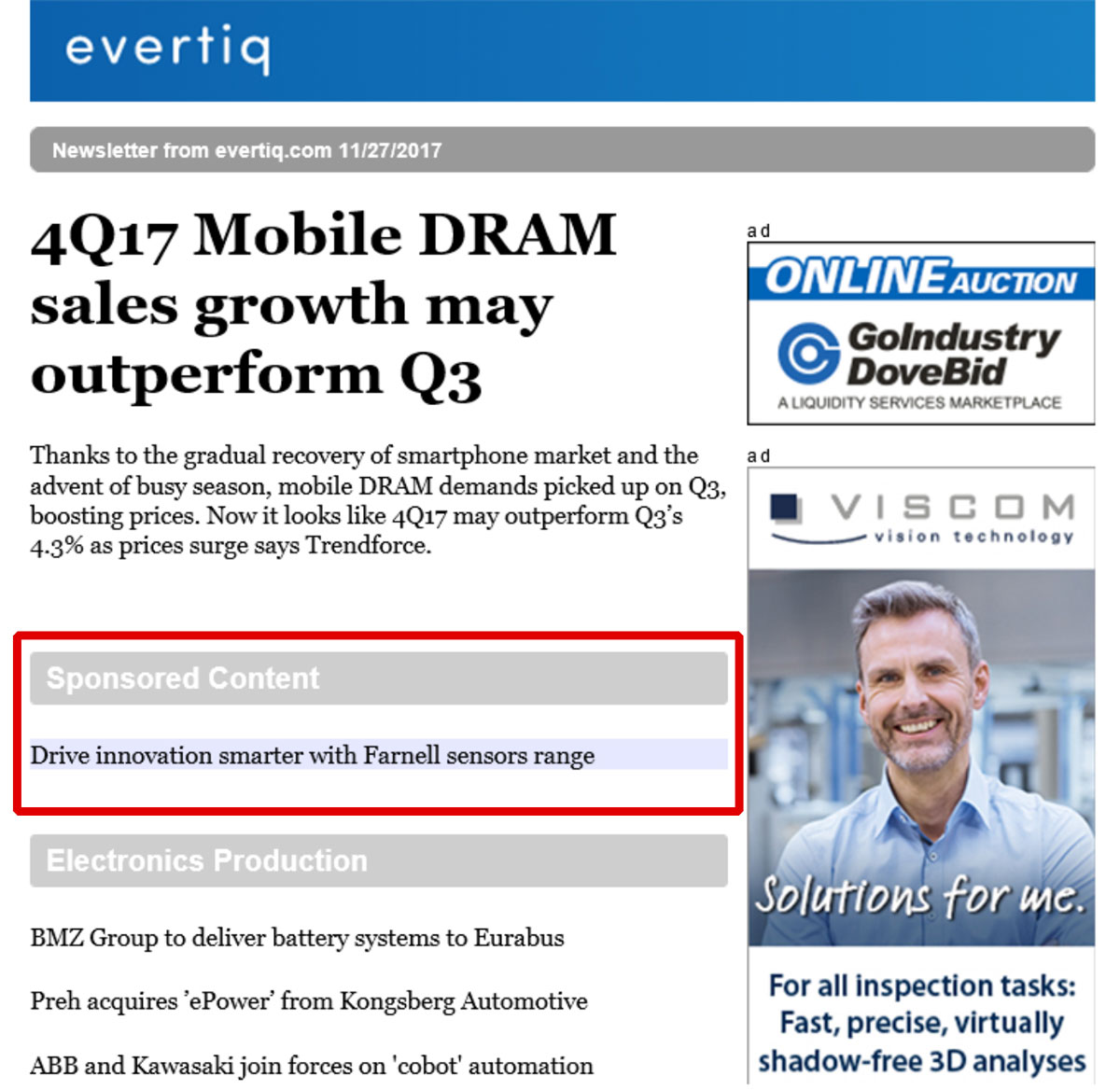 specifications, terms
and conditions
Publishing
The article is shuffled between five intermixed spaces on the Evertiq.com start page. The article may appear in the fifth position in the news feed, the twentieth position, or somewhere in-between. This is determined by the number of sponsored articles booked at the same time. A maximum 5, including your article, are booked at the same time. We do not take any responsibility for the content in the articles.
Accepted text and image format
Word or PDF format. We convert these to HTML format for publishing. HTML code consists only of text, images and simple code, such as URL linking and text size. More advanced HTML code can produced by the customer. Supported image formats: GIF, TIFF, PNG or JPEG.
Video Format
Videos may be posted on YouTube or Vimeo. These are then linked in an iFrame on Evertiq.com. Video is displayed only with the heading on the start page, no preamble. The video does not auto start when logging on to Evertiq.com.
Image and Video Size
See Price List for Specifications
Difference between sponsored content and our editorial content
If customers are not able to supply content, we can provide it. We work with freelance writers who produce materials specifically for our sponsored content. There is no connection between this and our regular editorial material published by our editorial team.
Mobile Page
Our search engine is not available in the mobile version and the news app.
Buttons for social media are not available on the mobile version and the news app. Videos are not shown on the mobile version of the Evertiq.com start page and news app. Videos do appear, however, in the article page on the mobile version and news app.
Newsletter in email format
Your title appears in the newsletter as long as HTML-format is enabled in your email client.
Click statistics are presented with a top level domain according to the email address that the recipient has signed up with. Email addresses with first and last names are not given out.
The newsletter article is sorted in the list according to when the booking was made. If anyone has booked "Sponsored Content" in the same period before you, the headline by that customer will be at the top. Likewise, your headline will be placed at the top if your booking arrived before anyone else.