General information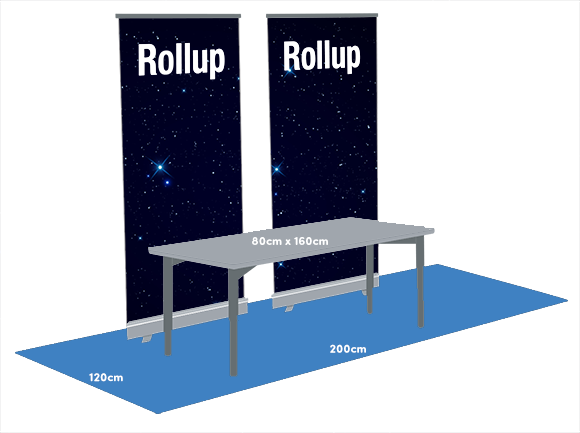 Exhibition area

200 cm x 120 cm

Table-top (Optional)
White table cloth and power outlet 220 V
Access to all sessions
Lunch on the Expo day
Up to 4 tickets for the Networking Dinner the day before the Expo
So, what does that actually look like?
The table-top costs
EUR 1,800
+ VAT. Just pack up all the components, exhibits, gadgets, roll-ups + very excited and enthusiastic people ... and that's it. If you book more than one exhibition area you can bring even bigger and better exhibits! So in theory you could bring a Smart Car or a giant robot. Your table and exhibition space will be ready for you when you arrive. You are not only able to roam the exhibition hall all day and make use of all the amenities we offer, your exhibitor badge will also give you access to our Mingle Dinner. And those are just legendary. If you want to have a look at our other sponsorship opportunities, contact our
sales team
. Not to skip over the small print: we will invoice you six (6) months prior to the event or, at the latest, when the booking is confirmed. Payment is due ten (10) workdays after receipt of the invoice.
Choose a table
Now hit the 'Submit' button and we will get a confirmation email to you asap.
To read more about VAT and how it relates to Evertiq Expo:
Evertiq Expo and VAT
All invoices made for Evertiq Expo will state local VAT tax. The supply of services such as fairs and exhibitions is regulated under the Exceptions in Article 53 of the EC VAT Directive (2008/8/EG); it states that the invoice should include local VAT from the country, where the events take place. However, these rules are interpreted differently in each EU country. For Evertiq Expo held in Sweden, customers with their registered head office outside Sweden will not have VAT added to their invoice. For Evertiq Expo held in Poland, the local VAT will be added to all invoices and for all customers. The same rules are implemented through the respective VAT Acts of all EU member states. VAT is deductible in your regular VAT report if Evertiq Expo is held in the country your company is registered in. In cases where Evertiq Expo is held in a different EU member state than your own, your company can apply for a refund through your local Tax Authorities. Customers registered outside the EU can apply for a VAT tax return with the Polish tax authorities. Advertising services are taxed by the reverse charge mechanism, when the transaction is business to business or between companies. The supply of such services is regulated under the General rules in Article 44 in the EC VAT Directive (2008/8/EG). Therefore, VAT is not added to any invoice issued by Evertiq.
Click here
We will promote the event across our social media platforms. This kind of brand building is probably not what comes to mind when thinking of electronics manufacturing and it may not last you a life-time — but — it will last you slightly longer than if you did it all by yourself. You can trust us on that. Tweet, facebook, instagram about your participation, the Evertiq Expo Warsaw and us.
#ExpoWAW — #Evertiq — #EvertiqExpo — #EvertiqNewsNetwork
COVID-19 UPDATE
Evertiq is monitoring the situation closely and with the safety of others as our top priority.
Due to the current pandemic caused by the COVID-19 virus, we have taken precautionary measures and postponed all our Expos to new dates later this year:
NEW DATE

: Tampere – 21 April 2021


NEW DATE

: Warszawa – 01 December


NEW DATE

: Gothenburg – 14 September 2021

Berlin – 11 February 2021


NEW DATE

: Lund – 06 May 2021


NEW DATE

: Krakow – 09 June 2021
Safety measures from our side - in close cooperation with authorities in the respective countries - have been considered and introduced.
More up-to-date information can be found
on the website of the WHO
.
---
Evertiq comments on scam emails
Evertiq unequivocally distances itself from these scam emails circulating. These emails are not connected to Evertiq in any way and do not reflect the ethics of this company.
Evertiq neither sells, distributes nor buys visitors and their contact details.
If you have any questions or concerns regarding this matter, please feel free to contact the Evertiq team.