Electronics Production | May 23, 2017
Daimler on its way with battery factory in Germany
At Daimler's wholly-owned subsidiary Accumotive in Kamenz (Germany), the second factory for lithium-ion batteries is built with an investment of around EUR 500 million.
"The automotive industry is facing a fundamental transformation and we see ourselves as the driving force behind this change," says Dieter Zetsche, Chairman of the Board of Management of Daimler AG and Head of Mercedes-Benz Cars. "The battery factory in Kamenz is an important component in the implementation of our electric offensive. By 2022, we will have more than ten purely electric passenger cars in series. We also continue to drive forward the hybridization of our fleet. Under the EQ brand, we are creating a holistic ecosystem for e-mobility." Daimler invests an overall amount of around EUR one billion in a global production compound for batteries. "With the second battery plant in Kamenz, we are giving the initial start for the development of the first premium eBattery factory," says Markus Schäfer, Member of the Divisional Board of Mercedes-Benz Cars, Production and Supply Chain. "The local production of batteries is an important success factor in our electric offensive and a crucial element in order to flexibly and efficiently serve the global demand for electric vehicles. This makes our production network very well positioned for future mobility." The new production facility, which is situated approximately 50 kilometres from Dresden, is scheduled to go into operation in mid-2018. Covering an area of around 20 hectares, the site is in the direct vicinity of the existing battery factory. The new plant will quadruple the production and logistics area in Kamenz to a total of around 80'000 square meters. In the next few years Accumotive will gradually increase the number of employees at the site. By the end of the decade, Accumotive will have a total of over 1'000 employees; more than double current staff numbers.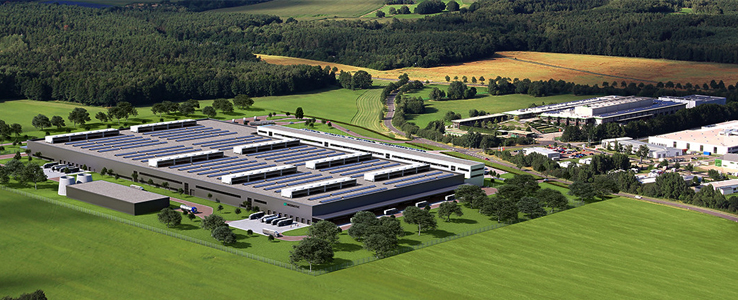 As the rest of the automotive industry, Daimler – with its different divisions – are working towards he electrification of their portfolio. The company began with the Vito E-CELL back in 2011 and will move into series with electric transporters starting next year. And as one can imagine – both the Vito and Sprinter will use batteries from Kamenz. -----
Image © Daimler: Dieter Zetsche, Chairman of the Board of Management of Daimler AG and Head of Mercedes-Benz Cars, welcomes Federal Chancellor Dr. Angela Merkel and Minister President of Saxony, Stanislaw Tillich, at Daimler subsidiary ACCUMOTIVE in Kamenz.