Analysis | May 09, 2017
List: Infineon drives into Top10 semi supplier ranking
In total, the Top10 semiconductor suppliers represented 56 percent of the 1Q/17 worldwide semiconductor market of USD 99.6 billion.
2Q/17 is forecast to be the first ever quarterly semiconductor market to exceed USD 100 billion. The Top10 worldwide semiconductor (IC and O S D—optoelectronic, sensor, and discrete) sales ranking includes four suppliers headquartered in the U.S., two in Europe, two in South Korea, and one each in Singapore and Japan. Intel held a slim 4 percent lead over Samsung for the number one position in 1Q/17. However, as reported in an earlier, market analyst IC Insights believes that Samsung is on pace to displace Intel as the world's largest semiconductor supplier in 2Q/17. Memory giants SK Hynix and Micron made the biggest moves in the 1Q/17 ranking as compared to the full-year 2016 ranking. Spurred by the recent surge in the DRAM and NAND flash markets, each company moved up two spots in the top-10 ranking with SK Hynix now occupying the third position and Micron moving up to fourth. There was one new entrant into the Top10 ranking in 1Q17—Germany-headquartered Infineon. The company's 1Q/17-1Q/16 sales increase was 6 percent. Infineon replaced fabless supplier MediaTek, whose 1Q17/1Q16 sales were up by 7 percent to USD 1.8 billion, but the company suffered a sequential 1Q/17-4Q/16 sales decline of 17 percent. Half of the Top10 companies had sales of at least USD 4.0 billion in 1Q/17. It took USD 1.9 billion in quarterly sales just to make it into the 1Q/17 Top10 semiconductor supplier list. As would be expected, given the possible acquisitions and mergers that could/will occur this year (e.g., Qualcomm/NXP), as well as any new ones that may develop, the Top10 semiconductor ranking is likely to undergo some significant changes over the next few years as the semiconductor industry continues along its path to maturity.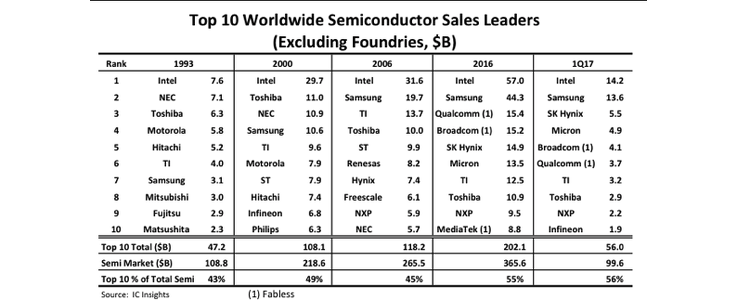 ----- More can be found at
© IC Insights
.