PCB | May 02, 2016
North American PCB business growth accelerates
The PCB sales in North America accelerated in March and order growth rebounded. Bookings outpaced shipments, but the book-to-bill ratio held steady at 1.02.
Total North American PCB shipments in March 2016 came in at 10.3 percent above the same month last year, bringing the year-to-date growth rate up to 6.1 percent for the first quarter. Compared to the preceding month, March shipments were up 18.6 percent.
PCB bookings in March increased 10.5 percent year-on-year, boosting year-to-date bookings growth for the first quarter to 3.5 percent. Orders in March 2016 were up 28.1 percent from the previous month.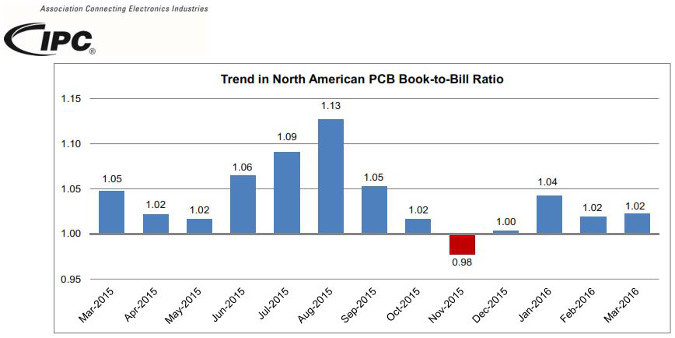 "March was a good month for the North American PCB industry, with strong growth in both sales and orders," said Sharon Starr, IPC's director of market research. "This is a welcome change from no growth in 2015," she added, "and the first quarter's positive book-to-bill ratios support an expectation of continued growth in the second quarter."
-----
Images:
© IPC
Related news
Load more news