Analysis | February 26, 2016
North American electronics business growth slows
The three-month rolling averages of North American PCB and semiconductor sales declined in December 2015, as did US new orders for electronic equipment, after strengthening during the autumn months.
The rolling average of electronics manufacturing services (EMS) sales in December remained flat.
US new orders for electronic products tend to lead sales by one to two months. Another leading indicator is IPC's PCB book-to-bill ratio, which normally leads sales by three to six months.
The December 2015 ratio returned to parity at 1.00 after a one-month dip into negative territory in November. This followed a 13-month run of positive ratios. This trend suggests slowing and nearly flat growth in early 2016. Ratios above parity (1.00) indicate greater demand than supply, which may be a precursor of positive sales growth for electronics manufacturers.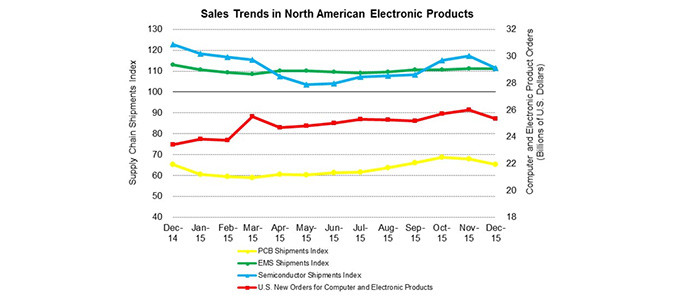 -----
Images
© IPC
Load more news