Analysis | February 12, 2016
More downside than upside risk
The table below lists IC Insights' assumptions for its 2016 IC market forecast of 4 percent growth. As depicted, the most likely 2016 IC market scenario is for 2-6 percent growth.
Worldwide GDP is forecast to increase by 2.7 percent in 2016, 0.2 percentage points greater than the 2.5 percent growth rate registered in 2015, which is expected to drive a 2 percent increase in electronic system sales (four points higher than the 2 percent decline in 2015). Overall, IC Insights believes the correlation between worldwide GDP growth and IC market growth in 2016 will be very tight, as it has been since 2010.
IC industry capacity utilization rates are forecast to be in the low-90s percent range (with 300mm fabrication facility utilization expected to be in the mid-90s) in 2016. Moreover, IC unit volume growth is forecast to grow 5 percent in 2016, slightly better than the 4 percent increase in IC unit shipments registered in 2015, as servers and smartphones experience continued good demand.
A market forecast essentially comes down to unit and ASP growth. With the expectations for a relatively healthy 5 percent increase in IC unit volume growth, coupled with a 1 percent decline in IC ASPs, a mid- to low-single-digit growth rate in the 2016 IC industry currently appears to be the most likely outcome.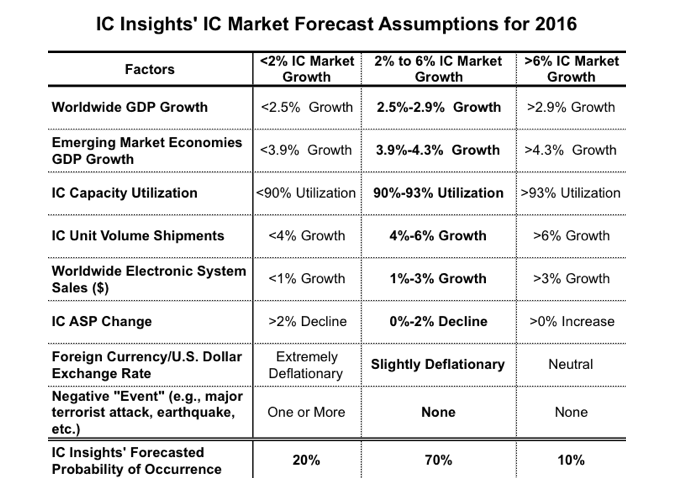 © IC Insights
Load more news