PCB | February 01, 2016
North American PCB industry ends 2015 with 0.4% sales growth
The North American PCB market experienced slow sales growth in December, bringing 2015 to a close at 0.4 percent growth over 2014. The book-to-bill ratio returned to parity at 1.00 in December.
Total North American PCB shipments increased 0.6 percent in December 2015 compared to December 2014. Year-to-date shipment growth remained at 0.4 percent. In December, year-to-date growth reflects the entire year of 2015 over 2014. Compared to the previous month, PCB shipments were up 6.7 percent.
PCB bookings rose 1.5 percent compared to December 2014. Year-to-date order growth in December, which represents the entire year of 2015, was up 2.5 percent over 2014. Orders in December were 6.4 percent ahead of orders in the previous month.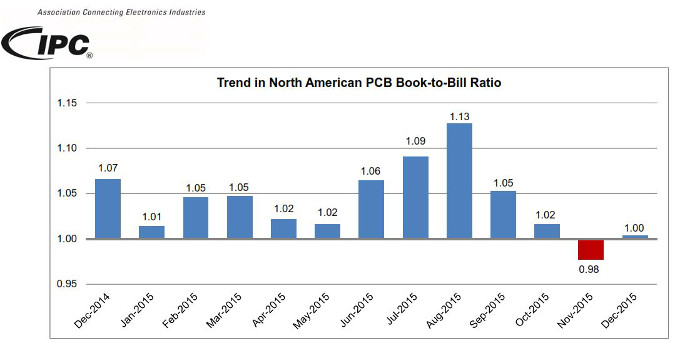 "Although North American PCB industry sales ended 2015 just slightly ahead of 2014, orders have grown a bit faster," said Sharon Starr, IPC's director of market research. "This, and the long run of positive book-to-bill ratios in 2015, falling below parity for just one month, indicate the likelihood of continued slow growth in 2016," she added.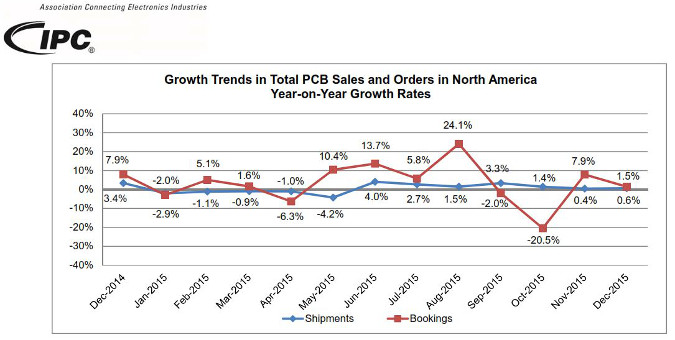 -----
Images:
© IPC
Load more news