Electronics Production | December 19, 2014
Sony makes its way on to the smart eyewear market
Sony has developed a single-lens display module with OLED technology that when attached turns eyewear into a pair of "smart glasses".
With a High-Resolution Color OLED Microdisplay, a Micro-Optical Unit Sony is making its way on to the smart eyewear market.
By simply attaching it to a pair of glasses, goggles, sunglasses, or other type of eyewear, you can gain access to visual information, which is done in a small sub-window. Because the module is easily attachable/detachable, you can use it only when you want to, and you have the option to store it away if it does not suit the occasion.
Sony is aiming to start mass production of this display module within the coming year. It is looking to provide the product to a wide variety of potential customers, from eyewear makers whose pieces are tailored for specific uses such as sports or entertainment, to electronics manufacturers who are considering pairing their products with wearable devices, to companies that provide business solutions utilizing wearable devices.
This display module is equipped with a 0.23 inch High-Resolution Color OLED Microdisplay. While possessing a display measuring 0.23 inches diagonally, it achieves a resolution of 640 x 400 pixels. Sony's display module is also equipped with a Micro-Optical Unit optimized for this OLED Microdisplay. In addition to its OLED Microdisplay and Micro-Optical Unit, the module is also equipped with a control board loaded with a processor with capabilities on par with smartphones, Wi-Fi functionality, and a variety of sensors.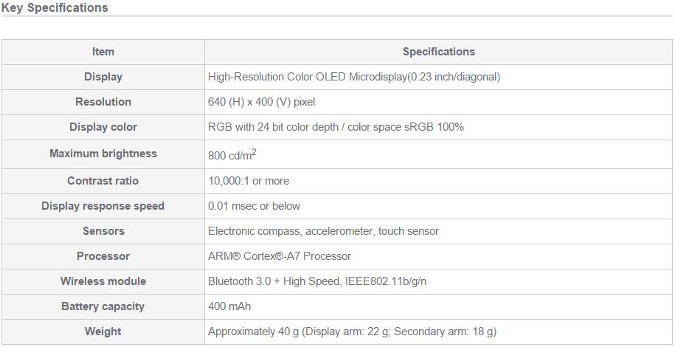 © Sony
Related news
Load more news