Analysis | January 31, 2013
EMS: M&A activity down once again
There were 29 completed EMS transactions in 2012, down from 32 recorded in 2011.
The most common type of transaction were EMS Consolidations with 14 transactions in 2012, or 48% of the total activity, compared to 15 transactions in 2011, which represented 47% of activity.
In 2012, there were 10 Vertical/Horizontal Convergence transactions, up slightly from the 7 recorded in 2011.
EMS divestiture transactions were up with 2 transactions in 2012 compared to 1 transaction in 2011, representing approximately 7% and 3% of total transactions in 2012 and 2011, respectively. There were no OEM divestitures in 2012.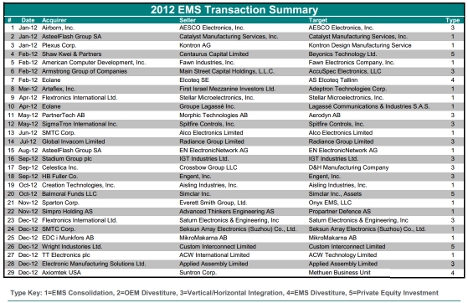 © Lincoln International / Image has zoom function
10 of the deals completed in 2012 were cross-border. Within this category, six transactions were between low-cost regions and high-cost regions, and four were between two different high-cost regions. The other transactions were split amongst other geographies with nine occurring within the U.S. and Canada (31% of the total), eight transactions within Europe (28%) and two transactions within Asia (7%).
In terms of the size of transactions, 2012 was led by the Small Tier, with 15 transactions, or approximately 52% of total activity. Large Tier EMS providers closed four transactions, representing approximately 14% of the total. Mid Tier providers added ten transactions, representing approximately 34% of the total.
Load more news