Electronics Production | November 06, 2012
Kimball's EMS sales increase YoY
Fiscal year 2013 first quarter (ended September 30, 2012) net sales in the EMS segment increased 15% compared to the first quarter of the prior year primarily related to double-digit sales growth to customers in the automotive and industrial markets.
Gross profit as a percent of net sales in the EMS segment for the first quarter of fiscal year 2013 improved 3.6 percentage points when compared to the first quarter of the prior year primarily related to higher absorption of fixed costs on the increased sales volumes, benefits realized related to restructuring activities completed in the prior year, and increased operational efficiencies. Selling and administrative costs in this segment increased 2% in the fiscal year 2013 first quarter when compared to the prior year as benefits realized from restructuring activities were more than offset by increased profit-based incentive compensation costs related to the significant improvement in earnings. As a percent of net sales, selling and administrative costs declined 1.0 percentage point.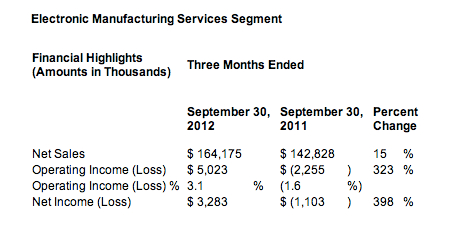 © Kimball
James C. Thyen, President and Chief Executive Officer, comments:
"The EMS segment continued its positive momentum into the first quarter. Successful efforts by our business development team in expanding our customer base and winning new programs with existing customers contributed to double-digit revenue growth compared to last year. Also since completing our restructuring activities in the first half of last fiscal year, we no longer have the distraction or costs of consolidating operations. We have eliminated that excess capacity and that has positively impacted our bottom line. We are pleased with the progress we are seeing within the EMS segment."