PCB | September 19, 2012
German PCB order intake declines in June
June turnover for German PCB manufacturers matched the long-term average. However, figures remained 1.2% lower than those of May 2012 and 3.6% lower than in June 2011.
The 1H/2012 reported figures were 9% lower than those of the corresponding period in 2011, reports the industry association ZVEI PCB and Electronic Systems. Order intake in the reporting month declined sharply. Compared to May 2012, figures declined 29%. YoY, the decline was 19%. This represents the third worst result since 2000. Only in the crisis years of 2003 and 2009 was a lower order intake was reported in June. Cumulative for the first six months, the order intake was 7% lower than for the same period of 2011.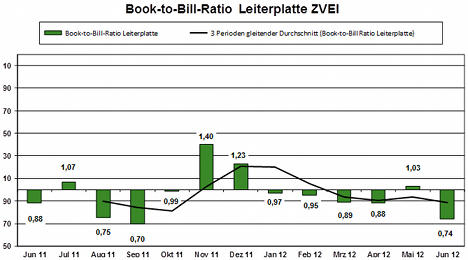 © ZVEI
The book-to-bill ratio in June stood at 0.74. The 2Q/2012 had a book-to-bill ratio of 0.88. The uncertain state of the global economy and unresolved problems of the debt crisis in Europe and the U.S. led customers to buy more cautiously and on a very short notice. However, the PCB manufacturers still have a relatively high order backlog due to long-term orders placed by PCB customers in 2010 and 2011. The number of employees increased in June by 5.5%; compared to May 2012. The mid-year holiday season will contribute over the next 2 or 3 months to a slight increase in employment figures.
Related news