PCB | August 29, 2012
Rigid PCB shipments down 4.2% YoY
adds graphs - Rigid PCB shipments were down 4.2 percent in July 2012 from July 2011, and bookings decreased 5.7 percent year over year.
Updated; August 30, 2012 8:17 AM
Year to date, rigid PCB shipments decreased 5.3 percent and bookings increased 1.1 percent. Compared to the previous month, rigid PCB shipments were down 16.6 percent and rigid bookings declined 18.7 percent. The book-to-bill ratio for the North American rigid PCB industry in July 2012 continued to slip and registered 1.00, exactly at parity.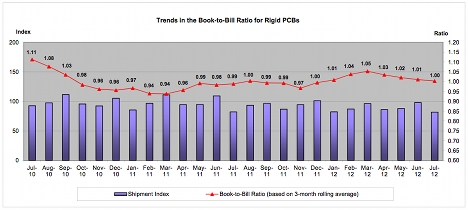 © IPC
Flexible circuit shipments in July 2012 were up 15.4 percent, and bookings were down 35.0 percent compared to July 2011. Year to date, flexible circuit shipments decreased 4.2 percent and bookings decreased 7.7 percent. Compared to the previous month, flexible circuit shipments decreased 9.1 percent and flex bookings were down 46.7 percent. The North American flexible circuit book-to-bill ratio dipped to 1.03, due to both strong sales and weak orders for the month.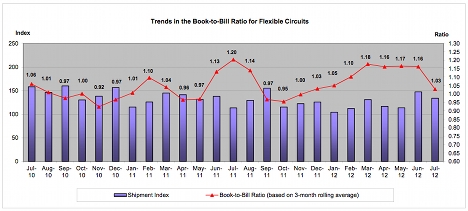 © IPC
For rigid PCBs and flexible circuits combined, industry shipments in July 2012 decreased 2.6 percent from July 2011 and orders booked decreased 8.4 percent from July 2011. Year to date, combined industry shipments were down 5.2 percent and bookings were up 0.3 percent. Compared to the previous month, combined industry shipments for July 2012 decreased 16.0 percent and bookings decreased 21.4 percent. The combined (rigid and flex) industry book-to-bill ratio in July 2012 decreased slightly but continued in positive territory at 1.01.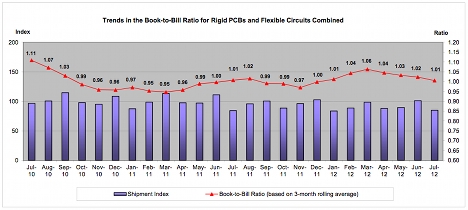 © IPC
"The sharp declines in North American PCB sales and orders in July over the previous month reflect normal seasonal patterns," said Sharon Starr, IPC director of market research. "Strong flexible circuit sales in July cushioned the fall. This strong sales performance was not surprising given the high book-to-bill ratios for flex seen in the first half of the year," she added.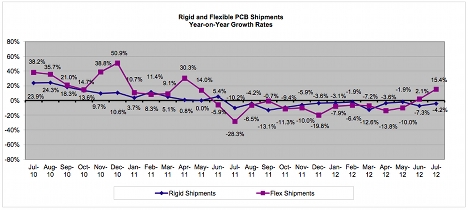 © IPC