Electronics Production | May 30, 2012
Gold replacement may cut the cost of electrical contacts
A material that can replace gold on electrical contacts has been developed by Swedish company Impact Coatings.
Silver MaxPhase is a metal alloy that performs like gold in terms of electrical conductivity and resistance to wear and corrosion, but at a fraction of the cost says the company. The company also claims that using Silver MaxPhase is a substantially better environmental choice than gold plating, as no hazardous chemicals are involved in the process. Impact Coatings was founded in 1997 and, following a period of development, the company is now targeting customers - primarily component manufacturers within the electronics and automotive industries. "We want to challenge the idea that gold plating is the only option for electrical contacts. An average mobile phone, for instance, has five to ten connectors that could be coated with Silver MaxPhase," says Henrik Ljungcrantz, the company's CEO. The coating is qualified according to the IEC 60512 and IEC 60068 standards for low voltage and low contact force connectors that are normally gold plated, such as battery and I/O connectors for mobile phones. The metal alloy is applied by physical vapor deposition (PVD), a process that takes place in a vacuum chamber where the material is evaporated and condensed to form a thin film on the object. Impact Coatings has developed the material, as well as processes and machinery for applying the alloy in high-volume production.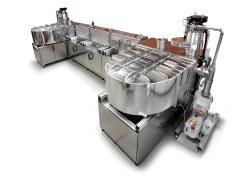 © Impact Coatings
The range of machinery includes systems for high-capacity reel-to-reel coating of metal strips; systems for coating of individual metal parts; and systems for coating of plastic components.