PCB | May 18, 2012
German PCB market stable
The German PCB market continues to be stable. February sales for German PCB manufacturers were at the same level as in January 2012 reports the industry association ZVEI PCB and Electronic Systems.
Compared to the same month last year, sales decreased about six percent. In a 10-year comparison, sales volumes were 5% higher. Order intake in February stayed 7% below January figures. YTD figures were also lower when compared to the same period in 2011. However, the order books are still significantly better stocked than in previous years.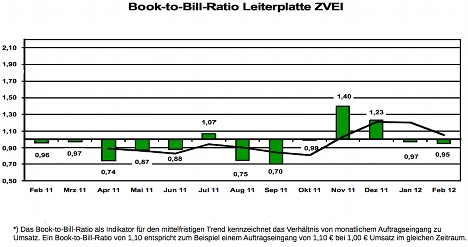 © ZVEI
The dominant replacement strategy - due to the floods in Thailand - is normalising again. This means that customers are returning to short-term planning. The book-to-bill ratio as a medium-term trend indicator is again below par with 0.95. The number of employees fell by 3.4 percent. Weaker demand in some specialized areas led to the reduction in staff.