PCB | April 30, 2012
Rigid PCB shipments down 12.6% YoY in March 2012
Rigid PCB shipments were down 12.6 percent in March 2012 from March 2011, and bookings decreased 2.2 percent year over year, reports the IPC — Association Connecting Electronics Industries.
Year to date, rigid PCB shipments decreased 6.4 percent and bookings increased 4.6 percent. Compared to the previous month, rigid PCB shipments increased 10.6 percent and rigid bookings increased 9.1 percent. The book-to-bill ratio for the North American rigid PCB industry in March 2012 improved to 1.05.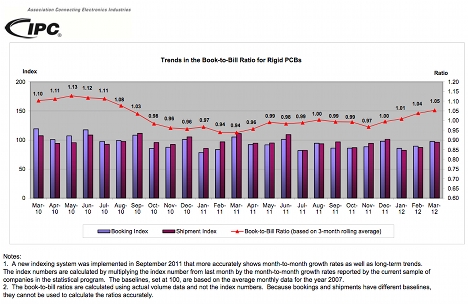 Flexible circuit shipments in March 2012 were down 7.2 percent, but bookings were up 34.5 percent compared to March 2011. Year to date, flexible circuit shipments decreased 7.2 percent and bookings decreased 1.5 percent. Compared to the previous month, flexible circuit shipments increased 17.0 percent and flex bookings were up 5.3 percent. The North American flexible circuit book-to-bill ratio jumped to 1.18.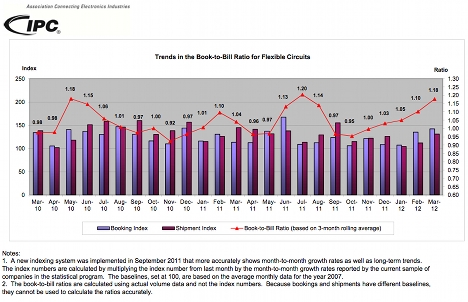 For rigid PCBs and flexible circuits combined, industry shipments in March 2012 decreased 12.2 percent from March 2011, while orders booked increased just 0.2 percent from March 2011. Year to date, combined industry shipments were down 6.5 percent and bookings were up 4.1 percent. Compared to the previous month, combined industry shipments for March 2012 increased 11.0 percent and bookings increased 8.8 percent. The combined (rigid and flex) industry book-to-bill ratio in March 2012 strengthened to 1.06.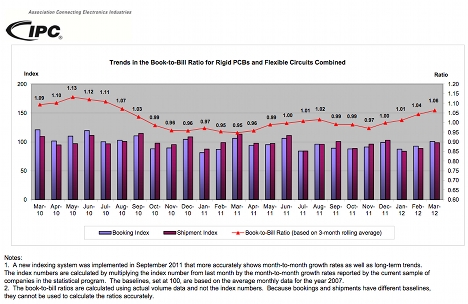 "PCB sales in North America in March continued to reflect normal seasonal patterns," said Sharon Starr, IPC director of market research. "Orders continued to outpace sales," she added, "pushing the book-to-bill ratio up for the fourth consecutive month, and that bodes well for sales growth in the next quarter."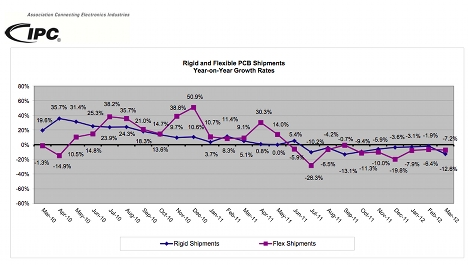 All images
© IPC
.
Related news