PCB | April 20, 2012
Up, up, up for the German PCB market
Sales figures for German PCB manufacturers increased significantly - 47% sequentially - in January 2012, states the industry association ZVEI PCB and Electronic Systems.
The increase can be attributed to the significant order intake during the previous months due to the floods in Thailand. The December sales figures are - due to the holiday season - relatively low. Compared to January 2011, sales figures decreased by 6 percent.
Order intake increased 2% compared to January 2011; 16.5% when compared with December 2011. The book-to-bill ratio reached a value of 0.97. The number of employees has remained roughly the same.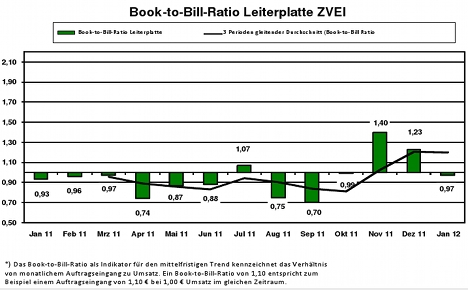 © ZVEI
Load more news