Electronics Production | March 16, 2012
Cleantech growing for PartnerTech
The Information Technology market made up the majority of PartnerTech's sales in 2011, with Industry and Cleantech following close behind and growing.
PartnerTech has released its year-end report for 2011 revealing growth in net sales, up to SEK 637.9 million from SEK 617.6 million, and operating profit (SEK 29.2 million from SEK 6.5 million).
The Information Technology market area provided 27.6% of PartnerTech's sales in 2011. Fourth quarter sales in this area declined however , to SEK 156.6 million from 174.1 million.
The Industry market area contributed 21.5% of sales, while CleanTech was 20.5% of sales.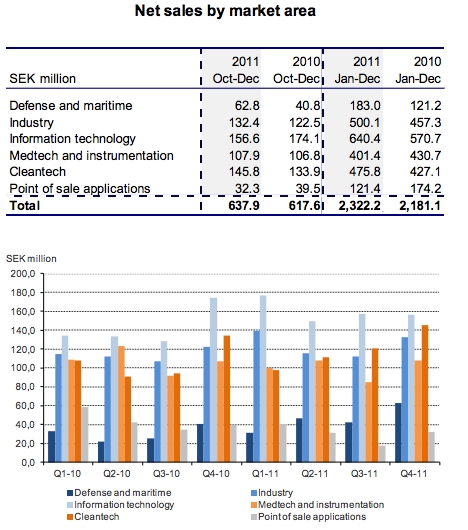 © Partnertech
Fourth quarter sales of Industry was up to SEK 132.4 million (122.5) and sales for the entire year came to SEK 500.1 million (457.3).
For the entire year, sales in CleanTech amounted to SEK 475.8 million (427.1). Partnertech said that demand for environmental technology products was strong throughout the year and that growth was the result of favorable market trends for a number of customers.
Load more news