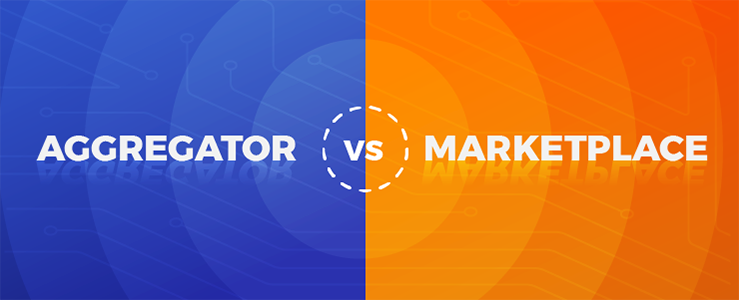 Component Aggregators vs E-Commerce Marketplaces
What is the difference between electronic component aggregators and a marketplace? 67% of a buyer's journey is now done digitally. Learn how marketplaces emerged as full-cycle procurement platforms and challenged the traditional component aggregators.
You've probably heard about electronic part aggregators and e-commerce marketplaces. For many sourcing professionals, the terms seem interchangeable. After all, they both provide part search features, pricing information, and delivery times to support your purchasing decisions. That's true – but that's where the similarities end. Both aggregators and e-commerce marketplaces offer electronic components for OEMs or contract manufacturers in one place. But the ability to transact accurate, timely purchases (based on your project demands) from one environment only exists with an e-commerce marketplace. In order to fully differentiate the main features between electronic part aggregators and e-commerce marketplaces, we compiled two different purchasing scenarios, each with specific processes related to the respective environment.
Scenario 1: Sourcing with an Electronic Parts Aggregator
Your project is coming down to the wire. Thanks to a last-minute design change request from your customer, you need to order parts today – preferably yesterday. You visit a part aggregator website, enter the part number, and are given a list of compatible parts, each with different sourcing distributors, prices, lead times, and so on. While this is useful, you still need to transact and purchase your parts as well. Aggregators give you all the available parts, things get complicated afterwards. On the available parts list, you find a part that fits your timeframe and pricing requirements. Clicking on the part from the aggregator website sends you directly to the distributor or manufacturer. At this point in the transaction, you're now out of the aggregator environment and interacting with the distributor or manufacturer site. This means, part quotes, purchases, and tracking take place outside the original aggregator sources. For a few parts, that's not a big deal. For more complex projects, this can mean an intricate project that requires delicacy and extreme attention to detail. Aggregators are not without their benefits for less involved projects, however. Some advantages of part aggregators: • Consolidated, updated vendor info • Optimal search results • Efficient layout of prices, vendors, and offer data • Great resource for e-procurement personnel • Help sourcing professionals "own" their part of the SCM process Aggregators are ideal for searching and sourcing electronic components, assuming you have plenty of time to deal with extra online "churn," in terms of additional ordering environments, multiple sources, and organizing optimal global offers. E-commerce marketplaces take the extra step with single environment efficiency. See how e-procurement is processed with global, online marketplaces.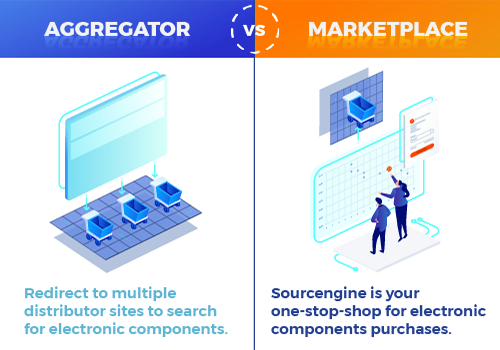 LINK
Scenario 2: Streamlined Transactions with E-Commerce Marketplace
In contrast to sourcing electronic parts from an aggregator, an e-commerce marketplace offers comprehensive, fully capable transaction possibilities all within the platform. Once a part number search is initiated in an e-commerce marketplace, you'll be presented with offers from multiple sellers, across the globe. This intuitive tool will help you identify the seller type (franchised or manufacturer direct), price, lead-time, and information for each component, like packaging type, available units, price breaks, units to purchase, and total value of the purchase in a user-friendly package. But that's not all – intuitive filtering tools add an additional level of precision to your order. These filters include offer preference (best offer, lowest price, fastest delivery), availability status (lead time or stock), packaging condition, and more. Whatever your project sourcing needs, e-commerce marketplace tools have you covered. Unlike part aggregators, an e-commerce platform gives you more information to make accurate purchasing decisions. Three key components of this data include:
• Alternative part availability
– If your original part number doesn't meet your price or delivery time criteria, our e-commerce marketplace automatically displays alternate parts immediately available for purchase.
• Extended technical informatio
n – With e-commerce marketplace tools, you'll know the story behind your electronic parts, presented upfront on our interface. This is particularly useful for engineers, designers, V&V personnel, and researchers. We also provide data sheets, test reports, instructions for use / assembly, and other useful data. While aggregators have this information, it is not readily available. Don't take chances with your data sheets – get the most accurate, up-to-date information with Sourcengine's e-commerce marketplace.
• Compliance information
– With different electrical and safety standards across the globe, make sure your electronic components meet local market requirements. An e-commerce marketplace is your single source for all relevant compliance data, immediately available for viewing before you make your purchase.
Read the remaining key differences
here
. On the Sourcengine marketplace, our customers can check over 20 million component offers from over 2,000 traceable sources and shop without ever having to leave our website. We eliminate the need to browse multiple websites to shop for the parts you need. Our product offerings include, but are not limited to: semiconductors, interconnects, passives, and electromechanical components.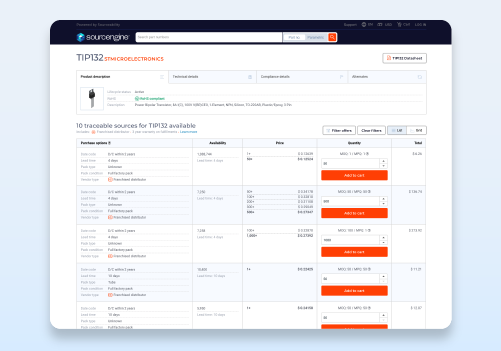 Our Experience is Your Advantage - Global Procurement, Quality and Logistics
Our parent company, Sourceability, utilizes our global distribution network to procure your components with one of our approved vendors/sellers. We maintain a rigorous supplier rating system to track the performance and quality of our vendors in real time. This supplier rating system focuses on receipts, quality, timeliness and overall impression. All our components come from traceable and pre-approved sources only. Our purchasing agents are strategically located and speak multiple languages, making us global and local at the same time with the capability to work on your requirements 24 hours a day throughout the year. Sourceability's Global Quality team members are highly trained, technical and objective in discovering typically undetectable product quality flaws during our 74-step inspection process. Our inspectors have an array of tools available.
 Our team members implement a 3-tier incoming inspection process based on the IDEA‌-1010B standard as well as other stringent industry quality standards. These strict standards ensure the highest quality and complete material conformance. • Level 1 Full Traceability • Level 2 Secure • Level 3 Risk Mitigation 
Components are subjected to a multi- step visual inspections process utilizing various high magnification microscopes (up to 1000X magnification) and digital cameras to document each step of inspection. Enhanced inspection follows visual inspection using techniques such as marking permanency, product resurfacing or black-topping tests (Heated Solvency tests). Each test conforms to the Sourceability Counterfeit Parts Mitigation Policy.
LINK