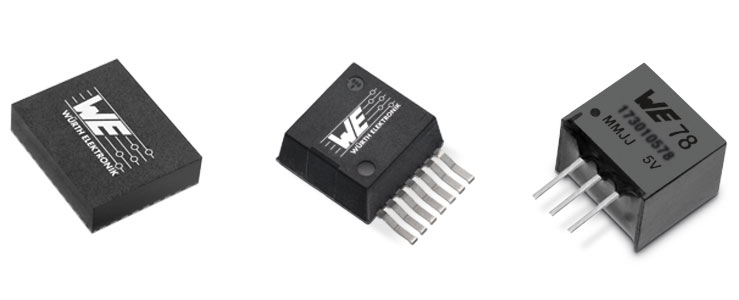 Integrated DC/DC Converter Modules
MagI³C Power Modules from Würth Elektronik eiSos: DC/DC converters with regulator IC, inductor, and capacitors. A special service: free-of-charge layout and EMC filter design support.
Under the brand name MagI³C Power Modules (Magnetic Integrated Intelligent IC), Würth Elektronik eiSos offers DC/DC converters with an integrated regulator IC and passive components like inductor, capacitors and resistors as System in Package (SiP). This allows smaller footprints, less components and low conducted and radiated EMI compliant to EN55032 / CISPR-32 class B. Advantages are simple design-in process, reduced development time, cost savings and fast time to market. The modules are available ex stock in a variety of packages and power ratings. Würth Elektronik eiSos offers its customers support in the complete design-in process from circuit design to layout and EMC filter design without any extra cost. MagI³C Power Modules support stepdown conversion from 24V industrial rail with transient capability up to 42V. In accordance to the requirements different packages can be selected: SIP-3 with fixed output voltage and no external components (no design knowledge required), TO263 with adjustable output voltage and settable switching frequency (optimization of efficiency versus ripple and regulation speed), QFN-41 (incl. soft start, tracking and synchronization). For input voltages of 3.3V, 5V and 12V the following package options are available: LGA-6 (MicroModule) for the smallest footprint, LGA-16 for easy handling (only one external resistor) and QFN-39 for maximum flexibility for complex FPGA supplies. For applications in data acquisition, test and measurement devices and interfaces, isolated DC/DC converters are required which comply to the safety norm UL60950 and EMI norm EN55032. The 1W SIP-4 and SIP-7 modules with fixed Vin and Vout fulfill those requirements. The 1W SIP-8 family augments these features with a wide range input voltage range, adjustable output voltage, and power boost all while complying with UL62368. For more informations
click here!
Load more news