General information
The table top exhibition allows one table along with two rollups per company booking. The image below illustrates a possible set-up. This creates an exceptional opportunity for your company to boost brand awareness and showcase your products and services!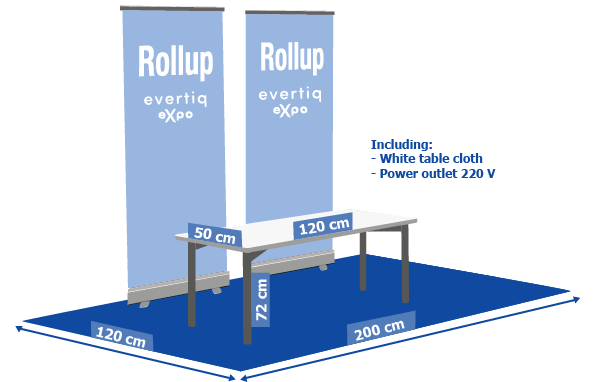 Total exhibition space including table.
Length: 200 cm, width: 120 cm
Table is equipped with
White table cloth
Power outlet 220V 10A
---
The cost for a table at this Evertiq Expo is
EUR 1,800
+ VAT and will be invoiced in January or at the latest when the booking is confirmed. The invoice is due for payment after 10 days. The price includes access to all sessions, breakfast, coffee and lunch throughout the day, as well as entry to our get-together dinner the evening before.
Evertiq will provide the table. All you need to do is to bring your own rollups along with your presentation material.
Book your table
After the form below you will find our floor plan for this Evertiq Expo where you in green colour can see which tables are availble for booking. Book your prefered table in the form below and we will back with your confirmation within shortly.
Floor plan
Sponsors
Booked
Available
To read more about VAT and Evertiq Expo:
Evertiq Expo and VAT
All invoices made for Evertiq Expo will have local VAT Tax added. The reason for this explained below. Evertiq are supplying two different kind of services and there are two different Articles that regulate this.
Advertising services is taxed by the reverse charge mechanism, when the transaction is business to business or between companies. The supply of such services is regulated by the General rules in Article 44 in the EC VAT Directive (2008/8/EG). In this case we do not add VAT to the invoice.
The supply of services such as fairs and exhibitions are regulated under the Exceptions in Article 53 in the EC VAT Directive (2008/8/EG) which says that supply should be with local VAT from the country where the activities take place. When this is the case we have to add local VAT to the invoice.
You will find the same rules also implemented in all EU member states VAT Act. When Evertiq Expo is held in the same country as your company is located the VAT is deductible for you in your regular VAT report. When Evertiq Expo is held in another EU member state than your company is located in you are entitled to a refund by a special application sent to your local Tax Authorities in your country.
If you are located outside EU you can receive the VAT back when applying for that to Polish tax authorities.
If you want someone to handle the VAT-return for you we can recommend the company
Moms Finans
to do this for you. Ask them for a quotation.
Click here
---
Booking conditions


Responsible for Evertiq Expo is Evertiq New Media AB ("Evertiq"), Box 63, SE-178 21 Ekerö, Sweden, Org.no 556582-2714.

The booking is binding when it has been accepted or rejected by Evertiq. If the booking is accepted, a binding agreement has been made for Evertiq Expo products which is confirmed in writing by Evertiq.



Cancellation


If cancellation is made between 3-6 months prior to the event, 50 % of the full price will be charged. If cancellation is made less than 3 months prior to the event, 100 % of the total amount will be charged. However, the Exhibitor is entitled to cancel the booking in writing within 10 days from the confirmation e-mail when booking is made less than 6 months prior to the event.
Download logos
To get the most out of your attendance, download our logo for print in your promotional material. Use it in your e-mail footer or on your web site.
Coming Soon