General information
The price of
EUR 1,500
+ VAT will provide you with the following: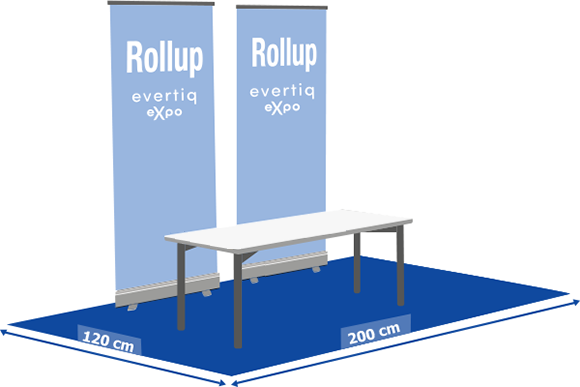 200x120cm exhibition area with power outlet and an optional table and white table cloth
Access to all presentations
Refreshments throughout the day as well as lunch
Up to 4 invitations/ tickets for our networking dinner
We will invoice you six (6) months prior to the event or, at the latest, when the booking is confirmed. Payment is due ten (10) workdays after receipt of the invoice.
It is always possible to expand your exhibition area. Contact our sales staff for more information.
Choose your exhibition area
Fill out the form below. Press 'Send' and a confirmation email will be sent to you shortly!
Banner-ad and logo for download
Expo logo.svg
Promotion-Material; editable .pdf-file where table number can be added
COVID-19 UPDATE
Evertiq is monitoring the situation closely and with the safety of others as our top priority.
Due to the current pandemic caused by the COVID-19 virus, we have taken precautionary measures and postponed all our Expos to new dates later this year:
NEW DATE

: Tampere – 21 April 2021


NEW DATE

: Warszawa – 01 December


NEW DATE

: Gothenburg – 14 September 2021


NEW DATE

: Lund – 06 May 2021


NEW DATE

: Krakow – 09 June 2021


NEW DATE

: Berlin – 10 February 2022
Safety measures from our side - in close cooperation with authorities in the respective countries - have been considered and introduced.
More up-to-date information can be found
on the website of the WHO
.
---
Evertiq comments on scam emails
Evertiq unequivocally distances itself from these scam emails circulating. These emails are not connected to Evertiq in any way and do not reflect the ethics of this company.
Evertiq neither sells, distributes nor buys visitors and their contact details.
If you have any questions or concerns regarding this matter, please feel free to contact the Evertiq team.