Components | February 12, 2014
Nordic Semiconductor ended the year with strong growth
Nordic Semiconductor reported strong growth in revenue and profitability during the fourth quarter of 2013, based on a rapid increase in demand for its Bluetooth Smart solutions.
Total revenue in Q4 2013 was USD 35.6 million, an increase of 29% from the prior year. Growth was driven by higher sales of Bluetooth Smart (low energy) solutions, which increased to USD 9.8 million, or 27.5% of total revenue during Q4 2013, compared with USD 0.6 million, or 2.3% of revenue in Q4 2012. Gross profit was USD 19.0 million, or 53% of revenue, compared with USD 13.0 million, or 47% of revenue during Q4 2012. The increase in gross margin was due to a change in the revenue mix toward smaller new customers.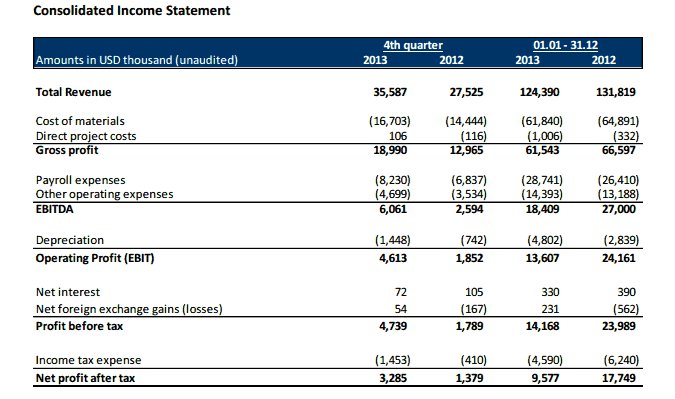 © Nordic Semiconductor
Due to an increase in revenue and gross margin, the company's Operating Profit (EBIT) grew to USD 4.6 million, compared with USD 1.9 million in Q4 2012. Net financial items were a gain of approximately USD 0.1 million, compared with an expense of USD -0.1 million in the prior year. Profit before tax was USD 4.7 million, compared with USD 1.8 million in Q4 2012. Net profit after tax was USD 3.3 million in Q4 2013, compared with USD 1.4 million during Q4 2012.
Related news