Application Notes | October 14, 2013
Model-based design ... - page 3
The experimental setup used as background for this paper is based on an ARM® CortexTM-M4 mixed-signal control processor from Analog Devices used with combined tools from IAR and MathWorks, to achieve complete implementation of the MBD platform.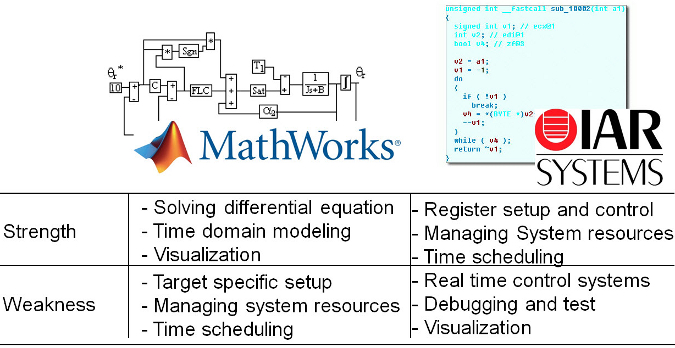 All images
© Analog Devices
. In this way a scalable model of a system has been realized which facilitates use and reuse of code, either based on existing legacy code or functions, or complete new building blocks based on standard C or graphical functionality (Simulink/MATLAB models aligned with the complete simulation and deployment phase).

Not only from the software perspective is it possible to change the overall setup, but once the right device drivers for a system are developed, a designer can change system resources, hardware elements and overall applications software for the end-application or system. Also, by being able to control the real-time aspects of the overall system timing, optimization of system scheduling is possible directly through this environment. Taking a deeper look at the classic sketch of a drive system, one can now visualize the capability of this architecture. It is possible to optimize each of the elements in the "Drive" and focus effort on what element is most critical to the end system. This means that, for example, if protection functionality and scale is of key importance, then the focus can be placed on the mechanical system in combination with the electrical control and power system. A mix of simulated results and real-time data can be used for monitoring system behavior, and together forms a "Live" optimization. On the other hand, if noise disturbances decrease the overall efficiency level of the system, measurements of these can be used in scalable filters and observers which minimize the hardware's noise issues to give an optimal state. Once all factors have been modeled and gathered, the final step in the deployment phase can begin and a complete implementation phase on the target system is a reality.