Components | September 05, 2012
Global semi sales increase slightly in July
The Semiconductor Industry Association (SIA) announced that worldwide sales of semiconductors reached $24.40 billion for the month of July 2012, a slight increase of 0.2 percent from the previous month when sales were $24.34 billion.
Sales from July 2012 were 1.9 percent lower than the July 2011 total of $24.86 billion, but the year-over-year decrease was smaller than it has been since October 2011. All monthly sales numbers represent a three-month moving average.
"July's sales figures offer some encouraging signs for the global semiconductor industry, but it's clear that macroeconomic challenges are restricting stronger growth," said Brian Toohey, president & CEO, Semiconductor Industry Association. "Meanwhile, the regional outlook remains uneven. Japan has rebounded strongly from last year's natural disaster and Asia Pacific has held steady, but Europe and the Americas have lagged."
Semiconductor sales in July 2012 increased compared to July 2011 in Japan (4.2 percent) and Asia Pacific (1.4 percent), but were significantly lower in Europe (-10.0 percent) and the Americas (-10.4 percent). On a sequential monthly basis, sales increased in Japan (5.4 percent) and Asia Pacific (0.3 percent), remained flat in Europe, and declined in the Americas (-3.9 percent). Japan had its strongest month-over-month growth since September 2009 and largest year-over-year increase since January 2011.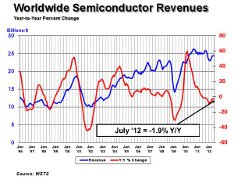 © SIA, bild med zoom
Load more news