Components | July 18, 2012
ST-Ericsson grows revenue & net losses
ST-Ericsson, a joint venture of STMicroelectronics and Ericsson reported a sequential Q2 (ended June 30, 2012) net sales increase of 19% to USD 344 million. Net loss increased slightly to USD 318 million.
Didier Lamouche, President and CEO of ST-Ericsson said:
"This has been a quarter of progress across the board. We ramped our NovaThor ModAp platform with Samsung and Sony Mobile Communications and also added several new Chinese key players. We are executing in a timely manner our new strategic plan to reposition our whole business model and we finalized on July 1, as anticipated, the transfer of the application processors development team to STMicroelectronics to build a world class partnership. We are advancing towards our objective to reduce our breakeven point and to reach sustainable profitability. During the quarter, all profit and loss metrics showed a sequential improvement: from revenue growth to gross margin expansion and from expense reduction to the decrease of our operating loss. While these indicators are encouraging, we recognize that further improvements in the execution of our critical programs are needed. Moreover, we operate in a very dynamic, fast-changing market and a highly competitive environment. In this context our primary focus is on delivering improvements of operating results and cash flow."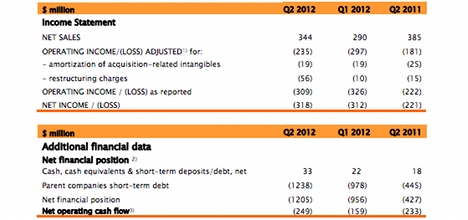 © ST-Ericsson
Outlook
Given, on one hand, the very substantial revenue growth during the second quarter and, on the other hand, the macro-economic and industry environment, ST-Ericsson expects net sales to be approximately flat sequentially for the third quarter 2012.