Business | May 11, 2012
Nvidia Kepler juggernaut rolls on
Nvidia launched the third GPU based on its next-generation Kepler graphics architecture, the GeForce GTX 670.
Engineered from the same DNA as the recently announced GTX 680 -- NVIDIA's top-of-the-line, single-GPU -- the GTX 670 packs a mean punch in its lithe 9.5-inch-long frame. The GTX 670 is built using NVIDIA's 28-nanometer Kepler architecture, as are the GTX 680 and dual-GPU GTX 690, which were introduced in March and April, respectively.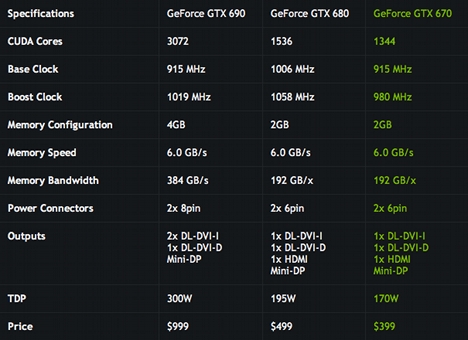 © Nvidia
In raw specifications, the GeForce GTX 670 closely resembles its bigger brother, the GTX 680. It has 1344 CUDA cores and a base clock of 915 MHz, slightly lower than the GTX 580. But in all other respects, the two cards are essentially identical. They have the same memory size and bandwidth. They both require two six-pin power connectors and occupy two slots.