Business | March 22, 2012
Vibrating tattoo means 'Mother called. Again.'
That is no joke. Not entirely at any rate. Nokia has filed a patent that can do just that.
The apparatus / tattoo would send a perceivable stimulus comprising vibration to your skin whenever someone tried to contact you on your phone. According to the patent filed with the United States Patent and Trademark Office, the mobile phone would communicate with the tattoo through magnetic waves. The phone would emit magnetic waves and the tattoo would act as a receiver, to put it simple. You could even assign different vibrations to different contacts. Giving you basically the chance to ignore that umpteenth phone call from your mother (an irritating itch maybe?). The concept also poses several problems. What if phone and tattoo are out of sync? Will your mother set off the tattoos of everybody else in the office every time she calls?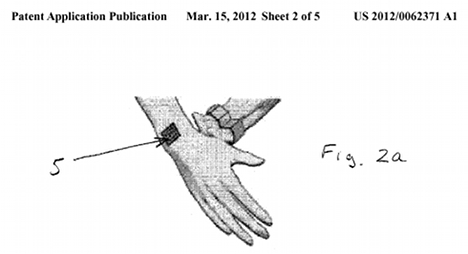 © Nokia
To make the magnetized tattoo, Nokia's patent suggests using ferromagnetic ink, which is ink that includes compounds like iron or iron oxide. Prior to usage, the ink is heated to a high temperature to temporarily demagnetize. After getting the tattoo, the user then re-magnetises the image with an external magnet. So instead of playing Angry Birds or Wordfeud, we will see people rubbing their forearms (and hopefully only those) with magnets during their lunch breaks. Now, a large proportion of the population however is not entirely keen on having their skin tattooed (even if it means 'running with the in crowd'). Will they have to miss out on all the fun and mischief that could potentially create? No. Nokia presents a solution. In their patent filing, the Nokia engineers also propose a magnetic receiver that could be worn on the skin like a sticker, but would also vibrate when the phone rings.